---
Welcome to the Pond!
Rona The Ribbiter – a Travel Blog for Quilters!
Welcome to Rona the Ribbiter – a one of a kind one stop shop for Quilters who love to Travel! Everything from Quilt Shop Hops and Road trips to Quilt Tours and travelers that just want to be inspired by the world, we have you covered.
If you LOVE to travel (Like ME) and love to Quilt (also ME!), welcome to the tribe! Helping my fellow quilt travel enthusiasts with Travel Tips, Hidden Gems and more Quilty fun is what I live for.
How can I help YOU?
On this site I share:
Personalized Quilt Shop Spotlights
Tips for Planning your next adventure
My favorite Travel bags, supplies, and quilt projects
Peeks at the best inspirational Travel destinations
Updates on various happenings all over the Traveling Quilting world
And much, much more!
Whether you're a beginner or experienced quilter. Whether you've been traveling for years or are just thinking about your first adventure, YOU have a place HERE amongst friends!
Join our merry band of Traveling Quilters and stay up to date on all my Quilting Adventures (and humorous mishaps). Every other week you'll receive special tips, tricks, coupons and much more! Sign up for my newsletter HERE.
---

As THE Traveling Quilter, I'm always on the go. And now, you get to go with me!
Join me, and several quilting friends, as we travel the world! Take a quilt workshop in Iceland. Spend 2 days at the Festival of Quilts in England. Or, maybe join us for a Quilting Retreat here in the good ole US of A!
No matter which adventure you choose, we're sure to have an amazing time!
Click HERE to find out where you can join me!!
---
---
Traveling Quilter Show!
Already a subscriber and looking for the show notes? Click HERE!
---

---
About ME
---
Shop the store
---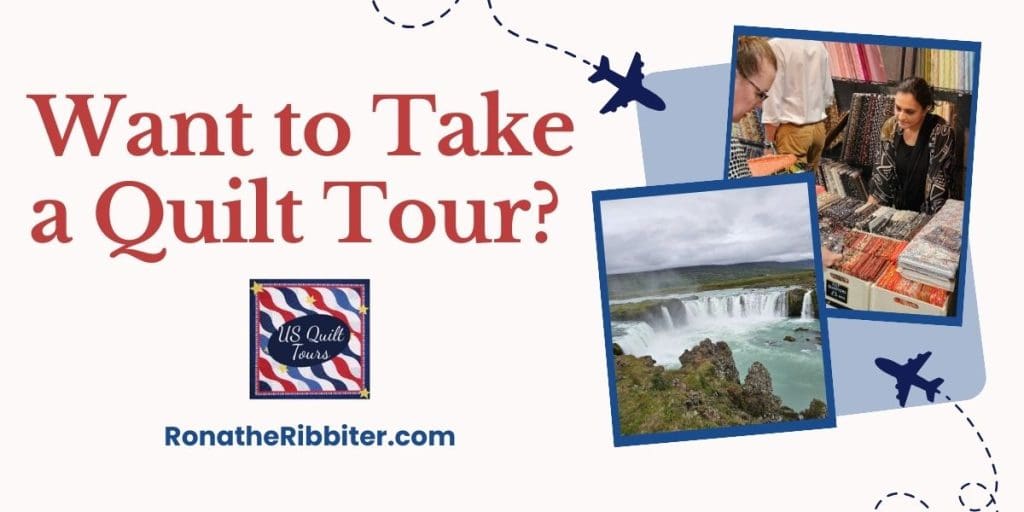 Want to take a Quilt Tour?
US Quilt Tours has gone out of their way, listened to their clients and even sought out advice from experts in the textile fields around the world to bring you truly one-of-a-kind tours!
If you're a quilter, weaver, or all-around textile enthusiast, a tour with US Quilt Tours should be top of your bucket list! Click HERE for all the details!
---
Latest Posts