From grocery shopping to road trip packing to quilt retreats, this bag fits them all!
So far I've made three of these fabulous tote bags and will probably end up making at least three more. They have a super strong base that will hold a ton of weight. In fact, I've filled them up with cans and jars at the grocery store with no problems.
Planning a road trip? This is your tote bag! Everything you need to keep in the car can be held inside these great bags.
Heading for a quilt retreat or quilt class? This is your tote bag! It will hold all of your supplies including these 12 x 12 plastic project boxes! Seriously, I have a TON of these boxes for my projects. Each one holds your 12 x 12 inch quilt blocks perfectly!
---
Tote Bag Pattern
This overall pattern is pretty simple to follow even if you've never made a bag before.
*All seams are 1/2 inch.
Materials
---
Cutting:
Main Fabric:

Outside Body – 20 x 15 (x2)

Lining Fabric:

20 x 40 (x1)
Outside Pockets – 8 x 18 (x2)

Contrast Fabric:

Handles – 4 x 48 (x2)
Outside Base – 20 x 12 (x1)

Fusible Heavyweight Interfacing:

20 x 15 (x2)
8 x 9 (x2)
20 x 12 (x1)
---
---
---
Instructions
Following the directions for the fusible interfacing, fuse together one 20 x 15 fusible interfacing piece to the WRONG side of each 20 x 15 Outside Body fabric pieces.
Fuse one each 8 x 9 fusible interfacing to half of the WRONG side of each 8 x 18 Outside Pocket pieces.
Fold each Outside Pocket piece in half, WRONG sides together.
Fuse the 20 x 12 Interfacing to the WRONG side of Bag Bottom Piece.
---
Do you watch youtube? Click here to check out my show rona the ribbiter, the traveling quilter!!
---
Handles
Fold each 4 x 48 Handle piece lengthwise, WRONG sides together and press.
Open the Handle piece and fold each side toward the middle lengthwise and press.
Fold the Handle piece in the center again creating a Double Fold. Press firmly.
Stitch along both sides of the Handle, lengthwise. Repeat with second Handle piece.
---
---
Outside Bag Body
Line up one pocket with the raw edges of the Outside body centers. Lay one Handle so the sides cover the side edges of the pocket. Line up all the raw edges at the bottom of each piece as shown. Pin in place.
Measure 1 inch from the top of the bag on the Handle piece as shown. This will make room to stitch the Lining and Bag Body together later.
Stitch each side of the Handles in place and across your drawn line at the top. * Be sure to leave that 1 inch open from the top of the Outside Body pieces.
Repeat with second Outside body piece, Handle and Outside Pocket.
Place raw edges of Outside Base piece and one Outside Body piece, RIGHT sides together. Stitch along the bottom raw edges.
Press toward the Outside Base. Topstitch along seam.
---
---
Repeat with second Outside Body piece and opposite raw edge of Outside Base.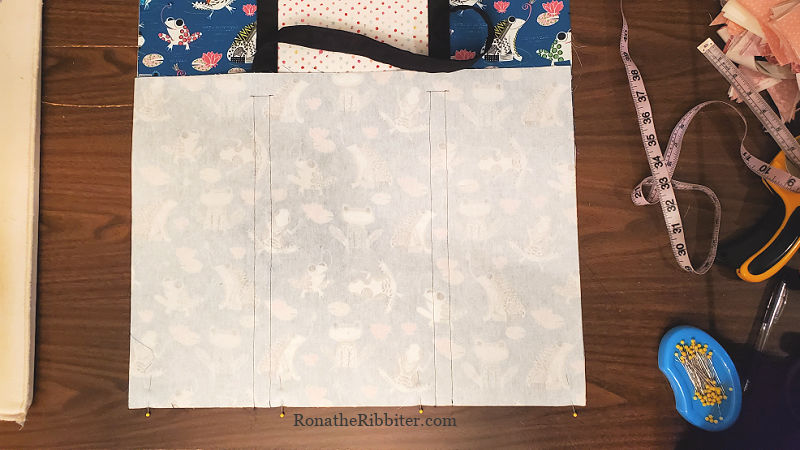 Press toward Base and Topstitch along seam.
Fold the full Outside Body in half, RIGHT sides together. Stitch along each side.
---
---
Box Your Corners
Fold one corner in to make a triangle. Measure 3 1/2 inches up from the corner point at the seam. Side to side should measure 7″. Draw a line across corner. Stitch ON your drawn line.
Fold stitched corner UP so that it lays flat against the Body side. Stitch to the side of the Outside Body. Repeat with second corner of Outside Body.
Turn Body RIGHT Side Out and set aside.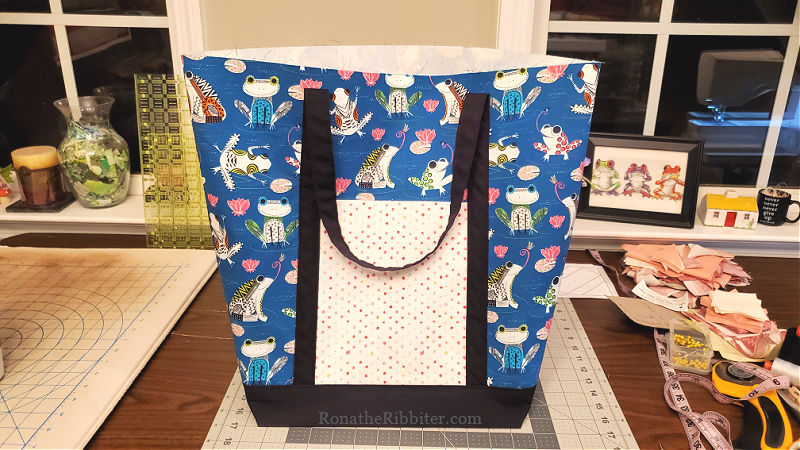 ---
Everything you didn't know you needed to know about Quilting Travel! Click HERE to learn more!
---
Lining
Fold 20 x 40 Lining fabric piece in half, RIGHT sides together to make a 20 x 20 piece. Stitch along each side, leaving approximately 6 inches OPEN on one side for turning.
Box the corners the same as you did with the Outside Bag Body pieces. Measure 3 1/2 inches UP. Stitch on drawn line.
Fold UP and stitch to the side of the Bag Lining. Repeat with second corner of the Bag Lining.
---

---
Finishing Your Bag
Place the Outside Bag INSIDE the Bag Lining. They should be RIGHT sides together. Line up the Side Seams and pin around the Top Edges. Make sure the Handles are tucked inside and free from the seam! Stitch around the entire Top Edge.
Pull the Bag RIGHT side out through the opening in the Lining.
Stitch Lining opening closed.
Tuck the Lining back inside the Bag. Press top edges firmly. Top Stitch around then entire Bag Top.
That's it! Now you're ready to use your amazing All Purpose Tote Bag! From grocery shopping to Road Tripping to Quilt Shows and Retreats, this great basic bag is the perfect all purpose tote bag you'll need!
---
Disclosure: Please note that some of the links above may be affiliate links. When you click and purchase an item I earn a commission at NO additional cost to you. I only recommend products and companies I personally use and/or have researched. The income raised goes to keeping the site up and running and community supported.
---
Related Posts:
---
Do you know someone who would love this tote bag? Click the buttons below to share the list with your friends! Then be sure to join us in the Traveling Quilters group on Facebook for more travel adventures!
---
More project posts
---
more from the e-store
---