Fabric, organs and quilts, oh my!
I love traveling to Virginia. One of the oldest of the original 13 colonies in the United States and known as the Capital of the Confederacy during the Civil War, this place is chock full of history. So, whenever there's a big Quilt Show taking place, I make every effort to attend. And the Mid-Atlantic Quilt Festival in Hampton, VA proved the perfect opportunity.
On the Atlantic coast, Hampton, VA is located 40 miles from the North Carolina state line and just across the Chesapeake bay from Norfolk. Norfolk houses the Nauticus Museum, the Battleship USS Wisconsin, many museums and a great Naval base. Quilt shows aside, this place has something for every traveler, commoner and history buff alike.
My main purpose for this particular trip was, of course the Mid Atlantic Quilt Festival. Three days of Quilts, classes and shopping. What is there not to like?
---
traveler TIP
If you've never attended a national Quilt show: reserve ahead! All of the shows announce their class schedules months in advance and the great ones always fill up. So, if there's a show you're interested in, sign up for their newsletters or keep watch on their social media accounts for the class announcement so you can be sure to get your spot.
This year I reserved my spot in my friend Cindy Lohbeck's Rad Ombre's hand dying class. I also went ahead and pre-registered for the show itself at the same time. That way all I had to do upon arrival is pick up my welcome packet. As a reward for all of us that pre-registered, the hosts of the show let us on the floor for 2 hours the night before it opened. We got to see all the vendors before anyone else and get first pick at the loot! That was a first for me so it was great fun.
---
And so it begins…
The first official day of the Mid Atlantic Quilt Show was an absolute blast. Myself and about a dozen fellow fabric enthusiasts spent the day playing with color! Yes, she's my friend but if you ever see the name Cindy Lohbeck on a teaching schedule, sign up immediately. I had not had that much fun in a class in a long time. Her sense of humor and energy is absolutely infectious. Check out what we made!! 😀
The festivities of day 2 didn't start until 10 AM so I decided to have a quiet (and frigid) breakfast of Starbucks coffee and take some pictures of the ocean. I do love a beautiful sunrise.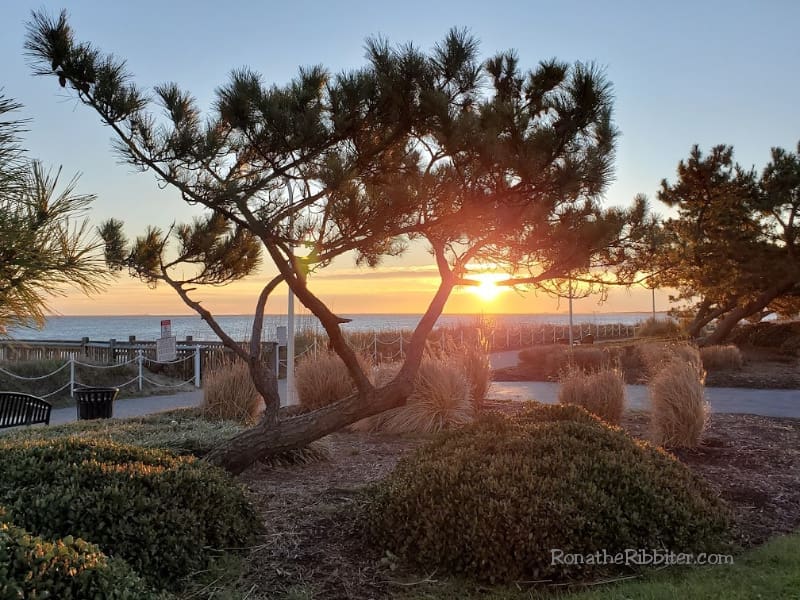 ---
---
more than just the quilt show
After coffee I made my way to the Hermitage museum. Purchased in 1908 by William and Florence Sloane, what started out as a modest (for the time) 5 room summer cottage eventually became the stately 42 room mansion and Arts & Crafts museum it is today. This place is a hidden gem on the inner shores of Norfolk, VA.
Mr. Sloane was a superintendent and part owner of the Berkeley Knitting Mill in Chesapeake and Mrs. Sloane was an avid art collector. She believed so much in art and the crafting world she had this quote from St Thomas of Aquinas (13 c.) etched above the windows in the main entry hall; "Art is simply the Right Method of doing Things. The Test of an Artist does not lie in the Will with which he goes to Work, but in the Excellence of the work which he Produces."
I could talk for hours about everything inside this house, but I'll shorten it to these 3 things.
---
first: The Exhibit
Even though it's technically a house, this is also a full museum with rotating collections. Currently on display was Mrs. Sloane's wardrobe. All period pieces from the roaring 1920's and 1930's in immaculate condition were poised for you to see. I was incredibly fascinated by all the stitching and lace work in these pieces. It was a true joy. Unfortunately, the exhibit closes May 10th. But, I can't wait to see what comes out next!
---
second: the organ
Oh. Em. Gee. Y'all this is the most amazing organ. Ok, when you go into the Gothic Drawing Room (what a name, right?!) there's a section blocked off where they held worship services. Inside was a beautiful old wood organ. Aside from the craftsmanship I didn't really think much of it. That is until I went upstairs. On the second floor as you walk down the little hallway that is directly above the worship area there was a little door. Inside? There were the pipes! It's a 2 story pipe organ!
I wanted so badly to run downstairs and beg them to let me play it just so I could hear the magic in those pipes. I remember going to a pizza place where I grew up called Pizza and Pipes that had a HUGE pipe organ. Every day they had someone in there playing. Unfortunately, that place burned down many years ago and the organ was lost. But I digress.
third: the woodworking
How often do you walk through a museum and find yourself more fascinated with the building itself than you do the artwork? That was me inside the Hermitage Museum. Above every doorway, inside nooks and cranny's, along the ceiling and even in the walls there were delicate and fascinating woodcarvings. These guys were my favorite. The Kitchen Witches.
There's one hanging on either side of each fireplace in the Great Hall. As the story goes, Mrs. Sloane was traveling in Europe and came across the Norwegian story of the Kitchen Witches. They hang in your house and during the night sweep all the bad spirits and bring good luck. I was so entranced by this guy I think I may have to make him into a quilt to hang in my house. My Druid of a husband will love it!
Along with the woodworking, there were statues, artifacts, period furniture and even 19th century tapestries!
Did I forget to mention the Stained Glass!?
---
back to the quilt show
After my traipse around the Hermitage I finally made it back to the Mid Atlantic Quilt Show for some much-needed retail therapy. As usual, I spent more than I should have but sometimes the fabric just calls to me! I picked up (too much) amazing fabrics from Frond Studios, a new bag pattern from Studio Kat Designs (love her!) and began my collection of fabric dying essentials. I can not wait to play!!
So, all in all, I highly recommend a trip to Norfolk, with or without the Mid Atlantic Quilt show. But let's be honest, the quilt show helps.
---
RELATED POSTS:
---
Do you know someone who'd love the Mid Atlantic Festival tips? Click the buttons below to share with your friends! Then be sure to join us in the Traveling Quilters group on Facebook for more travel adventures!
---
more on the blog
---
---