How Quickly Things Change
I'm now only 2 days from the end of my 14-day quarantine so now seemed the perfect time for me to tear a ligament in my knee, right? Hey, at least I was able to get out of my house and drive to the doctor's office. Boy was that a strange visit.
What Happened?
Let me take a quick step back and explain. I love to box. In fact, I have a boxing bag in my garage. Before each round on the bag I do some warm ups and other stretches like squats. Well, a couple weeks ago my brilliant 40 something brain decided to add a 10 lbs. weight to my squats. Really build those muscles. Uh huh.
Well, a few days later while I was setting up for the Charlotte Quilters Guild Quilt Show, I bent down underneath the table and felt an intense sharp pain just below my left knee. Y'all, I have never felt anything like it. On a scale of 1 to 10, it was an 11. And I've given birth. Pretty bad.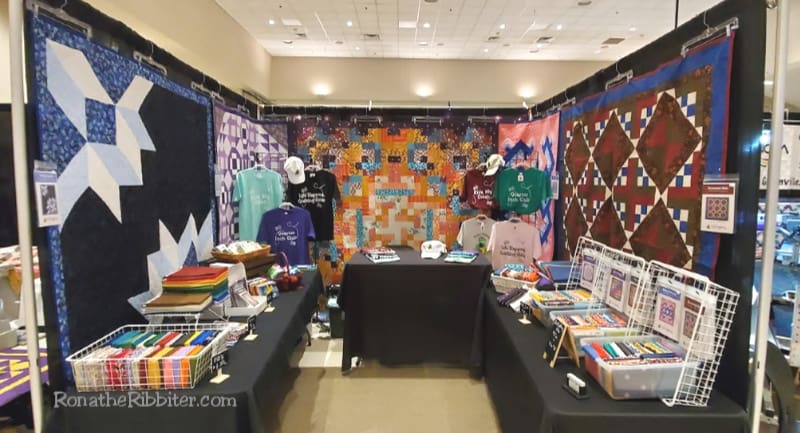 So, like a good little girl, I stopped all forms of exercise and tried to stay off of my knee as much as possible to give it a rest. But the knee was not having it. The soreness just kept persisting so, during a pandemic of all times, I finally relented and called the doctor.
Road Trip
Don't get me wrong, having an excuse to get out of the house and actually drive somewhere was a blessing. However, walking into the doctor's office was a bit creepy.
My doctor's office shares a building with other offices, including a pediatrician, as well as a stand alone Emergency Room. Normally, the doors connecting to the ER are kept wide open and there's always foot traffic coming in and out of the building. Not this time.
The Emergency Room doors were not only closed and locked but there were bright red stop signs on each of them warning that an alarm would sound if opened. Plus, it was a complete ghost town.
Like normal, I went to the elevator to go up to the third floor. But when I reached to push the 'going up' button I hesitated. Then, without really thinking about it, I pulled the cuff of my jacket over my finger so that only the fabric of my jacket touched the button. Crazy, right?
As soon as the elevator doors open, I was hit with the smell of sterilization. That almost chemical smell of Lysol and hand sanitizer. But it was still a little reassuring because until that very second, I had never contemplated the amount of germs that must live and party hard inside every elevator I've ever entered.
Once inside my doctor's office… silence. The only soul in sight was the one receptionist at the welcome desk. Even the waiting room television was muted. There was no one there to watch it.
So many changes
The palm scanners to identify us were gone. All the nurses wore face masks and gloves. The office was working on a half staff. And everyone kept an uncomfortable social distance. When I got on the weight scale the nurse stood at least 6 feet behind me and waited until the scale registered and I stepped off. Then, she came in behind me and read the screen. Always keeping that 'safe' 6-foot distance.
Even when I went to the restroom, I didn't touch anything directly with my skin. Now, one would expect a doctor's office to be pretty sanitary, especially when we're in the middle of a global pandemic. Jeez. Just typing those words seems strange. Anyway, I thoroughly wiped down the potty before using it. I used my foot to flush and I used paper towels to touch every single surface that was necessary. Including the door handle. Once I got back to the room, I used my elbow to open the door, not my hands.
I did all of those things almost without thought. True, I try not to ever touch a public restroom door handle with my hands anyway, but this time I touched nothing. Is this the new normal? How long will it be before we get so comfortable and take our immune systems for granted again that we just touch random things without thinking and then eat a sandwich? That though just made you cringe, right?
---
---
The Future is Now
My father used to say, "The stupid ones are self-terminating". While he definitely always said that in jest, it kind of makes you me think. What will it take for all of us to do the little things required to keep us safe and healthy? And, if we don't, are we being 'stupid'? Or, selfish? The biggest issue now is that it's not just about us getting sick. It's about those we will (or could) infect.
Every year we deal with the seasonal flu. As someone who was almost hospitalized in the past from the flu, it's no joke. However, it's so routine now that most of us never give it a second thought. Will COVID-19 one day be the same? I'm honestly not sure if I'm hoping for that day or not.
For now, let's all do our best to help prevent the spread of this nastiness so that we can get back to some sense of normalcy sooner rather than later. Not just for you and your family, but for all of our families.
Oh Yeah… my Knee
As it turns out my knee will be fine. No permanent damage, just a slight tear in the LCL. So, for the next 4 weeks I'll be sitting right here, on my computer. That is until I figure out the best way to quilt while keeping my knee stable and elevated. I will find a way gosh darnit. Trust me.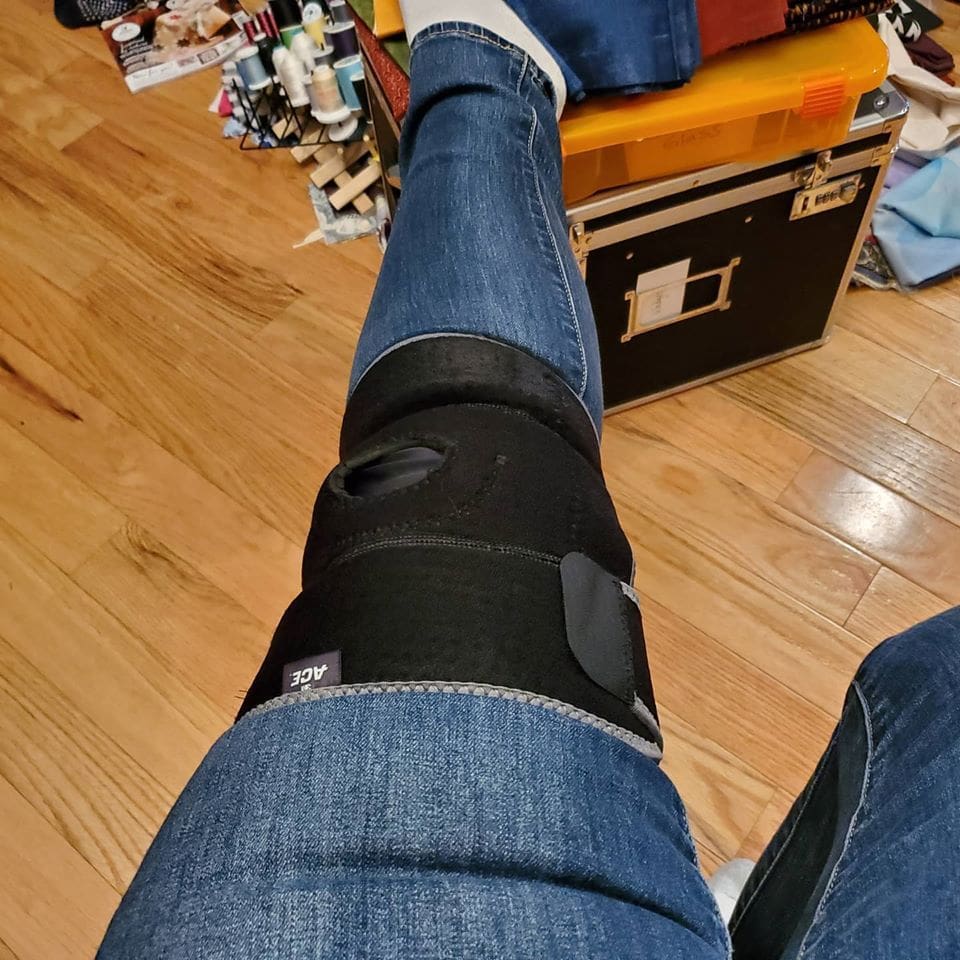 Stay healthy and optimistic my friends. The end is coming. We just have to band together until then. Safely. At least 6 – 10 feet apart.
RELATED POSTS:
---
Do you know someone who'd love the Quilt Show list? Click the buttons below to share with your friends! Then be sure to join us in the Traveling Quilters group on Facebook to for more travel adventures!
---
---
---