How to be the life of the party at your next retreat!
My absolute favorite thing about attending a Quilt Retreat (besides unending quilting time) is the laughter! There's just something magical about getting a group of quilters together in one room that brings out the silliness in us all. And in my opinion, we're all the better for it!
Contrary to what my husband may think, no, we don't JUST sit around and quilt all day. We also play games! Just like at a baby or wedding shower, who doesn't love a good round of themed games? But, our version is all about quilting! Here are 5 of my favorite games to play at a quilting retreat.
Quilter's Bingo
Quilting Trivia
Name That Quilt Block
What's in Your Sewing Kit?
Quilter's Jeopardy
---
---
1. Quilter's Bingo
Quilter's Bingo has actually become a pretty popular quilting retreat game. In fact, you can find several versions of the Bingo cards online, including one from Missouri Star Quilt Company. Here are two of my favorite versions to play.
BINGO CARD LISTING FUN THINGS TO DO OVER THE COURSE OF THE QUILT RETREAT
These things can include anything from sewing in your pajamas to completing a quilt block without seam ripping to finishing an entire quilt project before you leave. The possibilities really are endless.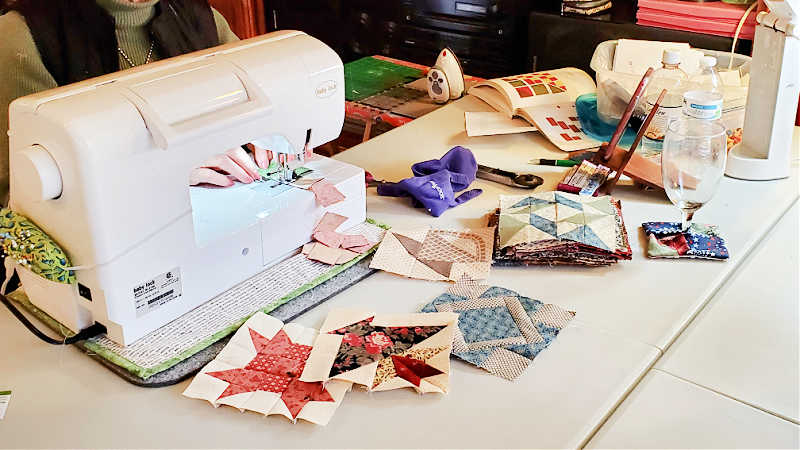 To play this version, hand each participant a card as they arrive. Then explain that they will have the entire retreat to accomplish as many as possible. After each task is complete, they can mark off that square. Then, when someone finishes and entire row or column, BINGO!
BINGO CARD OF VARIOUS QUILT BLOCKS TO MAKE
Just as the first Bingo version, each participant will be handed a card as they arrive. Then, throughout to course of the retreat, they can choose to make the blocks that are on the card. When they complete an entire row or column, BINGO!
---
---
2. Quilting Trivia
Trivial Pursuit is one of my husband and I's favorite games. I'm continuously floored at the amount of seemingly 'useless information' he has stored in that brain of his. Therefore, quilting trivia seemed like the perfect game to add to my list of favorite quilt retreat games!
Playing quilt trivia can be as simple as writing down a list of questions and calling them out. The first person to raise their hand and answer correctly wins a prize.
However, you could also jazz it up a little and write all the questions down on a piece of paper. Each player gets their own paper to see if they can answer each question silently. Once everyone has their answers written down, the truth is revealed. The person that gets the most answers correct wins!
---
4. Name That Quilt Block
This fun game can be played in one of two ways. The first is for you to provide either pictures or samples of a bunch of different quilt blocks. Then, holding each one up at a time see if your quilters can guess the block names. The second version, and my favorite, is to write down the names of several different blocks and place them in a bowl. Have your guests each pick one at random. Then, see if they can make the block. At the end, when everyone is done with their blocks, the group has to try and guess which block each person drew!
5. What's in Your Sewing Kit?
I got the idea for this game from a baby shower I attended many moons ago. In their version the game was called, 'What's in the diaper bag'. My first thought was how easily I could turn this into a fun quilters game! To play, simply create a list of a hand full of common, and not so common, quilting notions that might be in a quilter's sewing kit. When all the players are gathered together with their sewing kits, begin by calling out one item at a time. The quilter who has the most number of items in their sewing kit wins!
---

---
6. Quilter's Jeopardy
I grew up watching Wheel of Fortune and Jeopardy every week with my grandparents. I was so attached to those shows that I shed a tear when Alex Trebek lost his battle with cancer. So, to celebrate his life's legacy, I decided to come up with a quilter's version!
To play, begin by creating a list of trivia questions that fall into 5 or 6 categories. I might humbly suggest using the main categories in my Tips for the Traveling Quilter book:
Or, another example could be something like: Quilt blocks, Notions, Fabric lines, Stitches, Basting, etc.
Next, create 5 questions in each category. Write each question and answer on the back of a note card with their matching quantities written on the front: $200, $400, $600, $800, $1000. Just like contestants on the Jeopardy television show, as each person calls a $, read the answer. Then, your 'contestants' will have to come up with the appropriate question.
To work your way through the board, you can either choose to complete each question/answer card or set a timer for a limited playing time. Either way, it's now time to answer the Final Quilter's Jeopardy question. For this one I like to come up with something that is not so easy to answer, but not impossible. For instance, "Inventor of the first functioning and widely used Sewing Machine." Answer: "Who is Barthelemy Thimonnier?"
Each final contestant will make a final bet. After everyone has written their final question answers, each is revealed one by one. The quilter with the most amount remaining wins!
No matter which game you play, you're sure to be the life of the party by providing an avenue of laughter, camaraderie and a little bit of friendly competition. Which game(s) will you choose?
---
RELATED POSTS:
---
Do you know someone who'd love these Quilt Retreat Games? Click the buttons below to share with your friends! Then be sure to join us in the Traveling Quilters group on Facebook for more travel adventures!
---
on the blog
---
from the e-store
---