The Sunflower State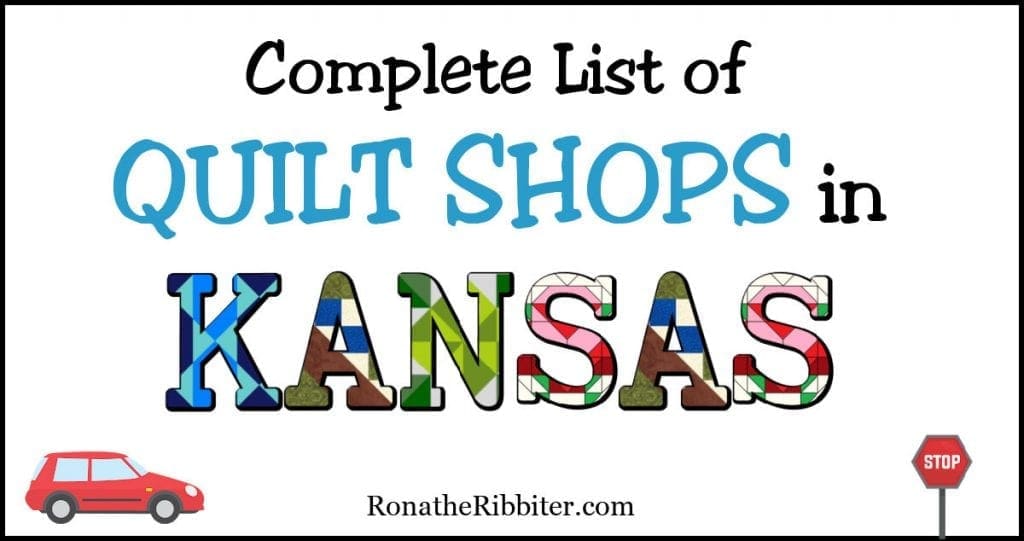 Welcome to Kansas!
"There's no place like home." And there's no place like Kansas. With it's long history of prairie life, the Kansas of today is an incredible combination of Native American heritage, Cowboy culture and good old fashioned Americana.
Whether it's a trip to see the open fields out 'on the range' or to get a glimpse into the life of Dorothy Gale, Kansas is sure to amaze and inspire travelers and quilters alike the world over!
SOME POINTS OF INTEREST NOT TO BE MISSED:
GET READY TO SHOP HOP!
There are several ways (and excuses) to visit these awesome quilt shops. Many of them participate in the Row by Row Experience, now known as the Quilters Trek. You can learn more, and plan your trip by visiting their website HERE.
Also, many Quilt Shops in Kansas participate in organized annual Shop Hops:
---
IT'S ALL ABOUT THE QUILT SHOPS!
No matter which part of the state you visit, there's sure to be a Quilt shop close by. Here is the most up to date list of active quilt shops in Kansas.
Abilene
Material Girls Quilt Shop
306 N Buckeye Ave, Abilene, KS 67410
785-263-7787
materialgirlsquiltshop@hotmail.com
Alden
Prairie Flower Crafts
205 N Pioneer St, Alden, KS 67512
620-534-3551
prairieflowercrafts@gmail.com
Arkansas City
McDonald's Sewing & Vacuum
222 S Summit, Arkansas City, KS
620-441-0939
mcdonaldssewing@att.net
Baldwin
Quilters' Paradise
713 8th St, Baldwin City, KS 66006
785-594-3477
Belleville
Sew Country
1834 M St, Belleville, KS 66935
785-527-2332
Bennington
Kansas Troubles Quilters
103 N Nelson, Bennington, KS 67422
785-488-2120
Chapman
Lucky Charm Quilts
405 N Marshall St, Chapman, KS 67431
785-922-6190
luckycharmquilts@yahoo.com
Colby
Colby Sew & Vac
1015 Taylor Ave, Colby, KS 67701
785-460-1900
Quilt Cabin
1525 S Range Ave, Colby, KS 67701
785-462-3375
quiltcabin@aol.com
Concordia
Fabric Essentials
114 West 6th St, Concordia, KS 66901
785-243-4044
fabricessentials@aol.com
Cottonwood Falls
Calico Rose Fabric & Quilts
319 Broadway, Cottonwood Falls, KS 66845
620-273-6020
prairie-maid@sbcglobal.net
Dodge City
Birds of a Feather Quilts
314 West Spruce, Dodge City, KS 67801
620-789-2111
birdsofafeatherquilts@gmail.com
---
---
Edna
The Quilter's Patch
119 North Marks Ave, Edna, KS 67342
620-922-3129
thequilterspatch@yahoo.com
elkhart
Sew Loved Quilt Shop
559 Morton Street, Elkhart, KS 67950
620-697-4095
laura@sewlovedquiltshop.com
Eudora
Quilting Bits and Pieces
736 Maint St, Eudora, KS 66025
785-542-2080
Eureka
Scraproom
209 N Main St, Eureka, KS 67045
620-583-7169
Garden City
A Quilted Crow
902 Stone Creek Dr, Ste C, Garden City, KS 67846
620-805-5073
Garnett
Kat's Fabric Store & Quilts
932 W 47 Hwy, Girard, KS 66743
620-704-8213
girard
Country Fabrics
108 E 5th Ave, Garnett, KS 66032
785-448-0003
countryfabric@centurylink.net
Hays
Quilt Cottage Co
2520 Vine St, Hays, KS 67601
785-625-0080
Hiawatha
Sarah Kathryn's
518 Oregon St, Hiawatha, KS 66434
785-740-4438
sarahkathrynsgft@gmail.com
Humboldt
Heavenly Kneads and Threads
724 Bridge St, Humboldt, KS 66748
620-473-2408
heavenly_kneads@yahoo.com
Hutchinson
Sew In 2 Quilts
126 N Main, Hutchinson, KS 67501
620-860-9753
luv2quilt@sewin2quilts.com
Junction City
Quilter's Yard
722 N Washington St, Junction City, KS 66441
785-307-0774
sales@quiltersyard.com
Kechi
Kechi Quilt Impressions
118 East Kechi Rd, Kechi, KS 67067
316-616-8036
kechiquilt@yahoo.com
Kinsley
Bossy Sister Quilting
209 E 6th St, Kinsley, KS 67547
620-338-5168
Kiowa
Clark's Fabric Shop
605 Main, Kiowa, KS 67070
620-825-4985
clarksfabricksu@sctelcom.net
La Crosse
A Quilt Corral
812 Main St, La Crosse, KS 67548
352-266-7108
Lawrence
Mea Bernina Sewing
2120 West 25th St, Lawrence, KS 66047
785-842-1595
info@meabernina.com
Sarah's Fabrics
925 Massachusetts St, Lawrence, KS
66044
785-842-6198
sarah@sarahsfabrics.com
Stitch on Needlework Shop
899 East 1000 Road, Lawrence, KS 66047
785-842-1101
shop@stitchon.com
---
---
Leavenworth
The Quilting Emporium                                        
514 B Delaware Street, Leavenworth, KS 66048
913-705-9229
quilter@tqeks.com
Plain Janes and Co                                       
506 Delaware St, Leavenworth, KS 66048
913-297-0030
plainjanesandco@gmail.com
Lenexa
Prairie Point Quilt & Fabric Shop
12116 W 95th Street, Lenexa, KS 66215
913-268-3333
prairiepoint@prairiepoint.com
Leoti
Prairie Flower Quilts
102 South Indian Road, Leoti, KS 67861
620-375-2044
prairieflowerquilts@yahoo.com
Mankato
Hidden Treasures Quilt Shop
101 N Commercial St, Mankato, KS 66956
785-378-8020
Marion
Sew What Quilt Shop
329 E Main St, Marion, KS 66861
620-382-2020
sewwhatquiltshop@yahoo.com
McPherson
Stitches Quilt Shop
102 S Main St, McPherson, KS 67460
620-241-2986
stitchesquilt@yahoo.com
Meade
Honeycomb Quilts
115 W Cathage St, Meade, KS 67864
620-873-5456
info@honeycombquilts.com
Minneapolis
No Place Like Home Quilt Shop
204 West Second St, Minneapolis, KS 67467
785-392-9065
info@noplacelikehomequiltshop.com
Mission
KC Maker Studio & Fabrics
5327 Johnson Drive, Mission, KS 66205
913-314-0340
patti@kcmakerstudio.com
Newton
Charlotte's Sew Natural
710 N Main St, Newton, KS 67114
316-284-2547
charlotte@sewnatural.net
Oberlin
Country Quilting and Keepsakes
310 W Commercial St, Oberlin, KS 67749
785-475-2411
countryquilting@ruraltel.net
Ogden
Fenceline Fabrics
528 Riley Ave, Ogden, KS 
785-477-4457
fencelinefabrics@gmail.com
Olathe
Quilter's Haven
116 N Clairborne Rd, Olathe, KS 66062
913-764-8600
mail@quiltershaven.com
Osawatomie
Happy Crafters
1935 Parker, Osawatomie, KS 66064
913-755-4360
carol@happycrafters.net
Ottawa
Chris' Corner Quilt Shop
3593 Old US Highway 59, Ottawa, KS 66067
785-242-1922
chriscorner@sbcglobal.net
Overbrook
Overbrook Quilt Connection
500 Maple St, Overbrook, KS 66524
785-665-7841
oqc@embarqmail.com
---
---
Overland Park
Addadi's Quilt Shop
9629 W 87th St, Overland Park, KS 66212
913-381-9705
Harper's Fabric & Quilt Co.
7918 Santa Fe Dr, Overland Park, KS
66204
913-648-2739
harpersfabric@gmail.com
Quilters HQ
11116 Antioch Rd, Overland Park, KS
66210
913-217-7736
support@quiltershq.com
Windmill Sewing Center Bernina
7251 W 97th St, Overland Park, KS 66212
913-341-6400
windmillsewing@gmail.com
Paola
Li'l Red Hen Quilt Shop
7 South Agate, Paola, KS 66071
913-294-5230
jenny@lilredhenquiltshop.com
Park City
Sewing & Embroidery Works
1590 E 61st St N, Park City, KS 67219
316-337-5733
hello@sewworks.com
Phillipsburg
The Quilt Bugs
205 W E St, Phillipsburg, KS 67661
785-543-7905
thequiltbugs@hotmail.com
Salina
Emporium Inc
1833 S 9th St, Salina, KS 67401
785-823-1515
emporiuminc@yahoo.com
Let It Sew
2501 Market Pl Suite C, Salina, KS 67401
785-515-2438
info@letitsew.net
Seneca
Seneca Variety
425 Main St, Seneca, KS 66538
785-336-6126
senecavariety@gmail.com
Severy
Needle in a Haystack
207 Q Rd, Severy, KS 67137
620-736-2942
haystack@needlestack.com
Stockton
Stitch and Chatter
320 Main Street, Stockton, KS 67669
785-415-2015
stitchnchatterstkn@gmail.com
Topeka
Stitching Traditions
2900 SW Oakley Ave, Ste H, Topeka, KS 66614
785-266-4130
stquiltshop@stitchingtraditions.net
Wellington
Beehive Quilt Shop
122 N Washington Ave, Wellington, KS 67152
620-440-8191
beehivequiltshop@gmail.com
Wichita
A-1 Singer Sewing Center
1012 South Oliver St, Wichita, KS 67218
316-685-0226
a1singerpfaff@aol.com
The Sewing Center
2407 W 13th St N, Wichita, KS 67203
316-832-0819
McDonald's Sewing & Vacuum
601 N West St #122, Wichita, KS 67203
316-358-9146
mcdonaldssewing@att.net
Picket Fence Quilt Company
7011 West Central #129, Wichita, KS 67212
316-558-8899
info@picketfencequiltcompany.com
Winfield
Field to Fabric
907 Main, Winfield, KS 67156
620-229-8540
---
Whether you're new to the state or you've been here all your life, Kansas definitely has something for every quilter's journey!
Did I miss one of your favorite quilt shops in Kansas? Let me know your favorite in the comments!
---
Related Posts:
---
Do you know someone who'd love the Kansas Quilt Shop list? Click the buttons below to share with your friends! Then be sure to join us in the Traveling Quilters group on Facebook for more travel adventures!
---
more on the blog
---
---