The Peace Garden State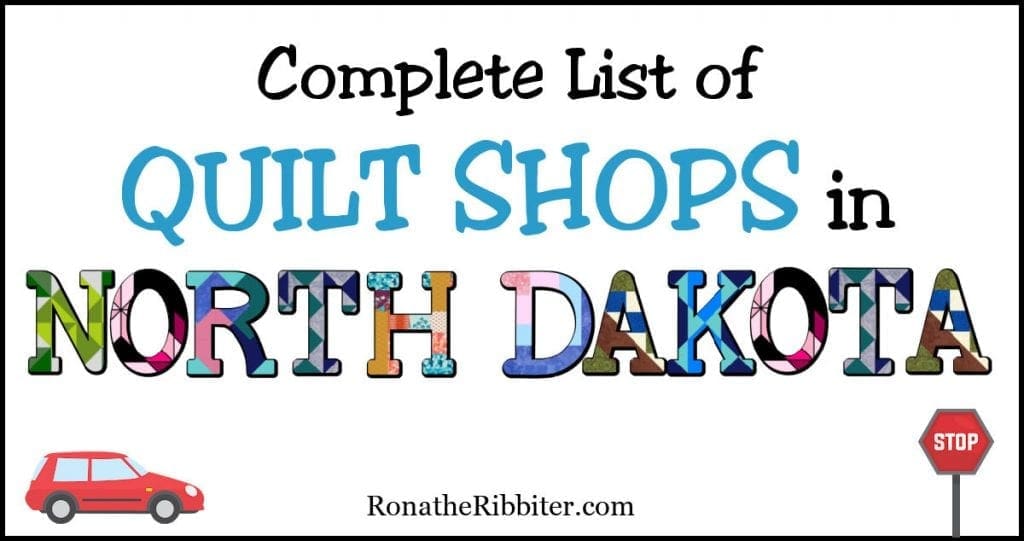 Welcome to North Dakota!
SOME POINTS OF INTEREST NOT TO BE MISSED:
GET READY TO SHOP HOP!
There are several ways (and excuses) to visit these awesome quilt shops. Many of them participate in the Row by Row Experience, now known as the Quilters Trek. You can learn more, and plan your trip by visiting their website HERE.
Also, many Quilt Shops in North Dakota participate in organized annual Shop Hops:
---
---
IT'S ALL ABOUT THE QUILT SHOPS!
No matter which part of the state you visit, there's sure to be a Quilt shop close by. Here is the most up to date list of active quilt shops in North Dakota.
Arthur
Mary's Quilt Market
325 Main Street, Arthur, ND 58006
701-967-8585
marysmarket@polarcomm.com
Bismarck
Bismarck Sewing & Quilting
1300 Skyline Blvd #106, Bismarck, ND
58503
701-258-5139
joy@bismarcksewingandquilting.com
J & R Vacuum & Sewing
223 E Main Ave, Bismarck, ND 58501
800-371-5515
Carrington
Quilt Designer Fabrics
6711 Highway 200, Carrington, ND 58421
701-652-3535
dfabqlt@daktel.com
Crosby
Pleasant Pheasant Fabrics
21 N Main St, Crosby, ND 58730
701-965-5000
info@pleasantpheasant.com
Devil's Lake
Quilt Essential
206 5th Street NE, Devils Lake, ND 58301
701-662-3634
quiltessential@hotmail.com
Dickinson
Dakota Sew & So
2797 3rd Ave W, Dickinson, ND 58601
701-225-1408
dakotasewandso@gmail.com
Fargo
Rae-Bon Sew & Quilt Shop
3060 25th St S, Fargo, ND 58103
701-433-7203
reddoor@rae-bon.com
Garrison
Merry Moose Quilt Shoppe
11 Main St N, Garrison, ND 58540
701-463-2199
merrymoose@restel.com
Grafton
Embroidery Plus
720 Hill Ave, Grafton, ND 58237
701-352-9553
info@quilterswebsite.com
Hettinger
Buffalo Creek Quilt Shop
218 South Main St, Hettinger, ND 58639
701-567-2277
sales@buffalocreekquiltshop.com
Jamestown
Comforts of Home Quilting & More
112 17th Street SE, Jamestown, ND 58401
701-252-5691
info@comfortsofhomequiltingandmore.com
---
---
Langdon
Sew on & Sew North
706 3rd St, Langdon, ND 58249
701-256-2526
sewon@utma.com
Mandan
Quilting For You
2690 Hwy 25, Mandan, ND 58577
701-315-0053
bobbie@quiltingforyou.net
Sewing Machine Plus
322 West Main St, Mandan, ND 58554
701-663-9025
sewing_art@hotmail.com
Mayville
Sew Batik
879 Main Street West, Mayville, ND 58257
877-235-5025
services@sewbatik.com
Minot
Bernina Plus
104 S Main Street, Minot, ND 58701
701-837-5638
info@berninaplus.com
Creative Dimensions
2705 4th Ave NW, Minot, ND 58703
701-839-7131
cre8ivedimensions@gmail.com
Good Vibrations Quilt Shop
4320 Burdick Expy, East Minot, ND 58701
701-839-5645
info@goodvibrationsqs.com
Prairie Rose Quilt Shop
1500 53rd Ave SW, Minot, ND 58701
701-852-2835
Oakes
Quilt-N-Sew
514 Main Ave, Oakes, ND 58474
701-742-2642
info@quilt-n-sew.net
Richardton
Suzy's Stash
118 N Ave, Richardton, ND 58652
701-974-7899
suzysstash@ndsupernet.com
St. Thomas
3 Red Hens
14779 80th St NE, St Thomas, ND 58276
701-257-6888
bonniejmccartney@aol.com
Watford
Barrett Pharmacy & Variety
145 N Main St, Watford, ND 58854
701-842-3311
Wishek
RumpleQuiltskin
6 S Centennial St, Wishek, ND 58495
701-452-6100
Whether you're new to the state or you've been here all your life, North Dakota definitely has something for every quilter's journey!
Did I miss one of your favorite quilt shops in North Dakota? Let me know your favorite in the comments!
---
Related Posts:
---
Do you know someone who could use the North Dakota quilt shop list? Click the buttons below to share the list with your friends! Then be sure to join us in the Traveling Quilters group on Facebook for more travel adventures!
---
More on the Blog
---
---