A Reno, Nevada Quilt Shop Spotlight
Every year I make at least one trip out to see my family in Reno, Nevada. While I'm there, I also try to stop in to at least one of the several quilt shops in the area. This last trip I decided to hop in to see the folks at Sierra Sewing, Quilting and Vacuums in their south Reno location.
As this was my first trip into the store, I wasn't sure what to expect. The shop is located in a small strip mall on South Virginia street. It's so well placed, unless you knew what you were looking for, you might miss it. But what a treasure hidden inside that building!
---
---
Upon first entering the quilt shops you're greeted with a warm 'welcome' from the nearest person on the floor. I say this because the floor is huge! To your right lies Sierra Sewing, Quilt and Vacuums' large collection of sewing machines. They carry a vast selection of Baby Lock, Pfaff, Viking and Janome!
Talk about eye candy! They even have a couple of long arm machines on display AND one you can take lessons on in the back! And that's just for starters.
After perusing the wonderful sewing machines on display, I walked along the back wall on my way to the other side of the building. Of course, I couldn't pass without taking a peek inside their classroom. Unfortunately, I didn't get a picture of the classroom as a workshop was in session. But I can tell you there's plenty of room for several quilters to spread out and have some fun!!
Sierra Sewing, Quilting & Vacuums offers all sorts of classes from beginner quilting to embroidery and tons more. If you're in the area and looking to learn, they've got something for you!
---
---
Crossing back across the threshold, I made my way to the other side of the shop… the fabric side!
Now, I'm not entirely sure, but it looks like at one time the 2 sides used to be 2 separate shops. In between the two sections is an alcove where the vacuums are displayed. Nice selection there too. 😉 And, of course, quilts hanging above them on the wall!!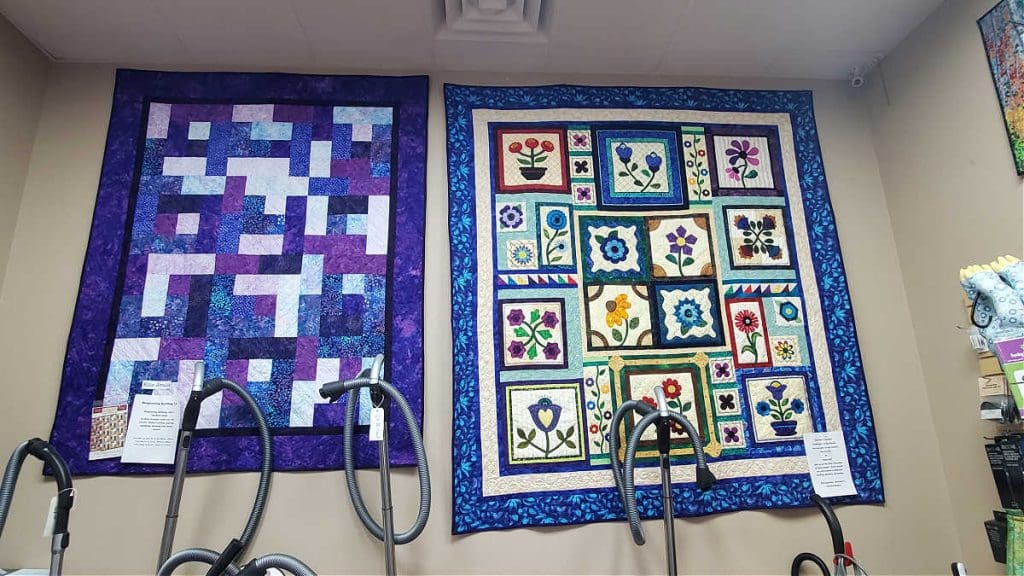 ---
Finally, the fabric.
The selection was not as large as ones I've seen in other shops. However, what they lack in size, they more than make up for in variety!
If you're in the market for panels, done. If you're in the market for fillers and fabrics that read as 'solid', you're in the right place. Tons of pre-cuts. Oh, and they've got a wonderful batik selection in the back!!
I MAY have spent a little too much on some fun pieces. But hey, what good is a fabric collection if the pieces always stay the same? 😀
---
services offered at Sierra Sewing, Quilting & Vacuums
Quilting classes of every variety
Sewing Machine classes
Shop Hop participation
Sewing Machine repair
Vacuum repair
Longarm Quilting
As if those weren't reason enough to check out Sierra Sewing, Quilting & Vacuums, they're also providing tons of fun over on social media.
On their YouTube page, the fabulous staff has started providing fun videos and tutorials AND every Thursday Night they're doing Live sales on their Facebook page!
If you're local to the Reno area, be sure to watch out for their recurring spots on Katey's Craft Corner on KOLO channel 8!!
Between the super welcoming staff, the fabulous service and learning opportunities a plenty, there's always a party over at Sierra Sewing, Quilting & Vacuums in Northern Nevada!!
---
---
Contact Sierra Sewing, Quilting & Vacuums
Reno Location:
8056 S. Virginia St, #6
Reno, NV 89511
775-823-9700
sewbizi@sierrasewing.com
Carson City Location:
911 Topsy Lane, Ste 222
Carson City, NV 89705
775-267-6697
sewbizi@sierrasewing.com
Website: https://www.sierrasewing.com/
---
RELATED POSTS:
---
Do you know someone who'd love the the Sierra Sewing, Quilting & Vacuums quilt shops? Click the buttons below to share with your friends! Then be sure to join us in the Traveling Quilters group on Facebook for more travel adventures!
---
More on the blog
---
from the e-store
---