My Encounter with the Great Kaffe Fassett!
Did you ever attend a workshop and create a quilt that forces you to truly see yourself? That was my weekend with Kaffe Fassett.
This last weekend was the big Kaffe Fassett and Brandon Mably event put on by Sew Much Fun Quilt Shop here in Lowell, NC. Knowing how much of a Kaffe super fan I am, a friend that works at the store leaked the information he was coming before they had even formally announced it just so I could be sure to get a spot. It really pays to have great friends in 'the know.' So, for the last 4 months I'd been, rather impatiently, awaiting this big event. And finally, the day had arrived.
He's Here! He's really here!
The weekend kicked off with Kaffe's lecture. He told fabulous stories of his childhood, moving to London, exploring the world and finding inspiration in every nook and cranny to bring to life his amazing collections of fabrics, yarns, paintings, knitted items and much more.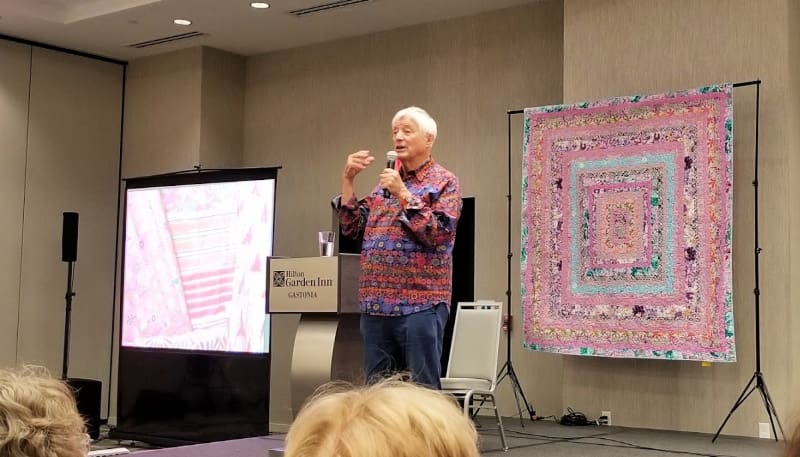 The greatest thing I took away from lecture night is just how much we are all the same. Somewhere in my mind I had always looked at Kaffe from afar, both literally and figuratively. He was this giant of a man with his spans of talent. And yet, here he was this very real, very… normal person, with just the right amount of eccentricity. He wasn't some mythological person floating in some unattainable reality that could only be seen from the outside. It occurred to me that being in that world was not just attainable, I had already stepped foot inside the gate.
Then Came the Quilts
I had signed up for the 'Green Diamonds' workshop from his book "Quilts in Ireland" – of course. My not so slight obsession with the Emerald Isle is no secret to anyone. The day started with all of us finding our spots. Each name was written on a table with a corresponding design fabric up on the wall. We jumped right in.
As instructed, we laid out the fabrics we brought from home and either Brandon or Kaffe helped us go through each one to pick out the best pieces for this project. With the 'Green Diamonds' quilt, it calls for very large prints set, usually, in one major color scheme. Many shades of blues, or reds, or greens. Mine, of course, was very very different. You know, being the rebel that I am.
The first fabrics Brandon and I picked out were very pastel and Spring like, mostly in yellow with pinks and oranges. I thought we had a great start. However, once I started getting pieces up on the wall, Kaffe didn't like it one bit. He dug through my fabrics and asked where my "bold" prints were. I thought I had some. There was a bit of blue and greens thrown in. I was wrong.
---
---
Kaffe Knows Best
Heading over to the LARGE table of bolts Kaffe went straight for ones that my eyes would have simply glossed over. A rather daring brown print and a Charlie Brown black and yellow chevron. Holy moly. Now, I will admit my skepticism. However, I was determined to stay open minded and just feel the fabrics. Do not overthink this. Not overthinking is my continuous life's challenge.
A big part of me did not want to add in the chevron. It was SO bold and different against the rest of the fabrics with its big black zig zags and sharp lines. I was somehow almost afraid of it. There's a glaring irony there. But we'll get to that.
As I kept working and adding, we kept putting in more daring colors. A fabulous bright orange and this amazing blue and green that worked so well with the florals in the design. And yet, it still lacked something. As I'm staring at it, Kaffe walks up to stare at it with me. I told him something was missing but I couldn't quite put my finger on it.
Then, another curve ball. It needed a stripe. This time we went with a rather striking fabric with bold colored stripes that actually played very well with that brown we'd added earlier. Things were starting to take shape. And yet, that chevron was staring me in the face, taunting me. Challenging me. So, I added it in.
Holy smokes was that different. Now the quilt really looked off kilter. There was this big bold print at the top and these pastels in the middle. Not working. To my astonishment, Kaffe told me to add another row. WHAT!? Mine is not to question so, I added another row of that glaring Charlie Brown chevron. Now my quilt had gone from mundane, safe and simple pastels to this bold and daring creature that had burst its way to the canvas. What was happening?
The Final Design Takes Shape
After a few more tweaks here and there, I finally had my quilt complete. Now was the time for Kaffe to critique all our work. I honestly had no idea what he was going to say. Everyone's quilts were simply gorgeous. Stunning blues to dramatic reds, light and delicate ones to dark and smoldering ones. They all followed a theme. Then, there was mine. This crazy, out of the depths creature that I'd somehow conjured from a place hiding in the shadows.
Then Kaffe began to speak. As he described my quilt it was as if he was describing me. He explained that the quilt started out very "delicate and pale. But we fixed that." He pointed out the "powerful zigzag" and how strong it was in the composition. "When something is maybe too strong for your composition, echo it. Make it sit and be at home." He explained how I got away with the pastels in the middle because they lead right back into the "drama." There's the key word: Drama.
Art Reflects the Artist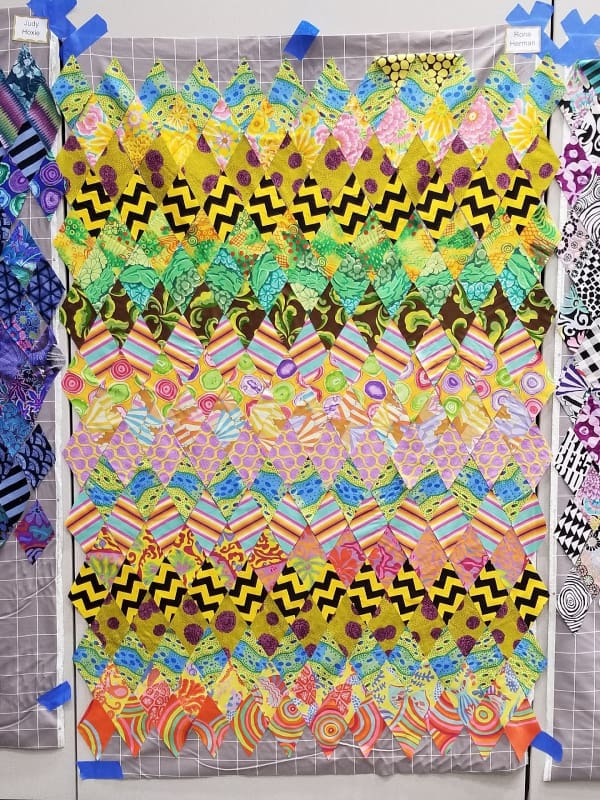 I have suffered from high anxiety and depression most of my life. Fear has ruled my actions for many years. That shy scared little girl had never quite grown up. She had control and wasn't letting go. That is, until I began this pattern writing journey a few years ago. As my skills and notoriety increased, so has my inner voice. By forcing myself outside of my comfort zone and taking "big, bold" steps toward my future I've been working my way out of the fear. Each giant scary leap forward has pushed me farther than I thought I could go and has actually grown and changed my comfort zone.
That scary chevron print represents every one of those leaps of faith. The lightening strikes of fear that always lead back to the calm, reinforcing the reality that the fear is all in my head. The severity of the 'what ifs' are never the outcome. Which settles back into the calmness of the pastels only to jump right back into the 'drama' with yet another leap outside the box.
This design is very much me on a quilt. It represents all the crazy ups and downs that are my life, my brain, my emotions. It's as if I've found my own 'self-portrait'.
---
RELATED POSTS:
---
Do you know someone who'd love these tips? Click the buttons below to share with your friends! Then be sure to join us in the Traveling Quilters group on Facebook to for more travel adventures!
---
---
---