How You can help support your local Quilt Shop with little to no money.
We all love our quilt shops. They are a place of inspiration, joy and comradery. However, the COVID pandemic has forced them to temporarily close their doors and many may not be able to open them again. But you can help them get back on the road to recovery. And, it won't cost you any money.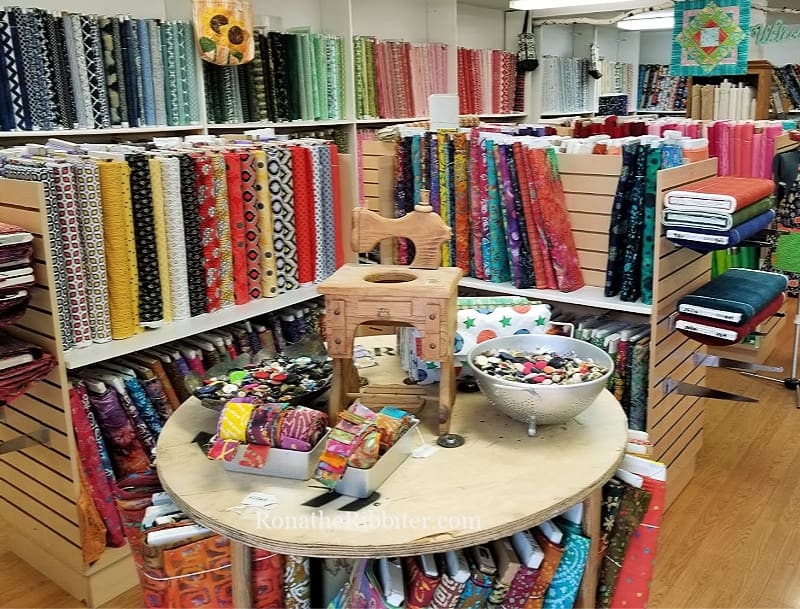 Perusing through the rows of colorful bolts at our local quilt shops puts a smile on any quilters face. If I'm ever feeling in a patter design rut, I'll head to my local quilt shop and see what inspires me. Between the conversations with friends and the project talk with the shop employees, our local quilt shops provide an incredible boost to our communities and our souls.
Unfortunately, being forced to close your doors for 2 months takes its toll on any business, especially our local quilt shops who rely so heavily on day to day foot traffic. That's why, now more than ever, it's so important for us all to band together and do what we can to help save our favorite local quilt shops.
However, during such uncertain times, and with the high unemployment rates, you might find yourself wanting to help save our local quilt shops but don't quite have the extra funds yet to pitch in and purchase. That's ok! Here are several other FREE ways you can help save our local quilt shops.
1) Sign up for their Newsletter
Many quilt shops have a regular newsletter where they email you all the latest information about coupons, special events and upcoming sales. Many also include some quilting tips. You can usually find a place to sign up on their websites.
2) Follow them on Facebook.
Many of our local quilt shops have Facebook or Instagram page. If you also have a Facebook or Instagram page, give them a 'like'! You can find out what they're page is by typing their name in the Search bar at the top of your Facebook home page. Or, you can also type their name followed by "Facebook" in the search box on Google.com. (Example: "Sew Much Fun Facebook")
3) Like their stuff
After you follow them on Facebook, be sure to hit that 'like' icon on their posts. Then, hit 'Share' and share their posts so your friends can follow them too. While you're there, leave a comment or two as well. The more engagement on their pages, the more Facebook will show them to others.
4) Talk them up
If you're on some quilting groups on Facebook, try to mention your favorite shops in casual conversation. You never know when there's someone near you in the same group! You can also mention them with you quilting friends and family. Even if they know of the store, they may not know of a sale going on that you found out about in their newsletter!
---
---
Have a little more?
Unfortunately, the world still runs on money. So, if you do have a little extra money and want to spend it at your local quilt shop (Yay you!) there's more ways to help than just buying fabric. I mean honestly, it's hard to get past the fabric, am I right? We could spend hours just petting the fabric. Oh, the beautiful fabric… Sorry. I'm back now. 😊
1) Buy a gift card
This one was suggested in a quilting group I'm in and I thought it was genius. Even if you're afraid to go into the stores just yet, buy a gift card online! That way, you can still support the stores now and have the card ready when you're comfortable enough to venture out. I mean, you COULD actually gift the card to someone else as well. I'll leave that up to you.
2) Sign up for some classes
Ok, this one may take a bit but many shops are looking at bringing in virtual quilting classes. Pretty cool, right? Honestly, I think online virtual classes are here to stay. So, why not take advantage? Reach out to your favorite shop and ask them when they're planning on offering quilt classes and/or if they've looked in to virtual classes. We may just start a trend!
3) Plan a Shop Hop
This one is my favorite. Road trip! Whether you're comfortable venturing out yet or not, eventually we'll all be back on the road. So, why not start the planning now? Start making a list of your favorite shops (or some new ones you've been waiting to check out) and start planning your route! There's no time like the present to plan, plan, plan!
Quilters are more than just hobbyists. We're a community. We are friends and neighbors who lift each other up when we're down and hide receipts when we spend past our limits. We're a group of amazing individuals that can always be counted on for a laugh and an "Oooh that's gorgeous fabric!" So many of our local quilt shops provide us a place to gather and gossip, practice and preach. Let's do what we can to make sure these treasures quilt shops remain our favorite spots for years to come.
How are you helping your quilting community? Let me know in the comments!
---
RELATED POSTS:
---
Do you know someone who'd love this post? Click the buttons below to share with your friends! Then be sure to join us in the Traveling Quilters group on Facebook to for more travel adventures!
---
---
---