Not Just Art on a Building, these Barn Quilts are an Adventure!
Do you remember going on long road trips and playing the 'I Spy' game just to pass the time?
"I spy with my little eye something... red."
"Is it that quilt on a barn?"
How the Barn Quilt Trails Began
Donna Sue Groves, whose mother was a quilter, grew up playing the 'I spy' game spotting things like barns! When she and her mother later bought a farm in rural Ohio, it had an old ugly tobacco barn on the property. Donna got the idea, in honor of her mother's love of quilting, to paint a pretty quilt block and put it on the side of the barn.
From there, she decided to create a sort of driving tour through her county for families to drive together and enjoy the art and the scenery while spending quality time together.
With the introduction of that first Barn Quilt trail by Donna Sue Groves in 2001 Ohio, both the Barn Quilts and the Barn Quilt Trails spread like wildfire. Today, you can find the all over the United States with more popping up every day.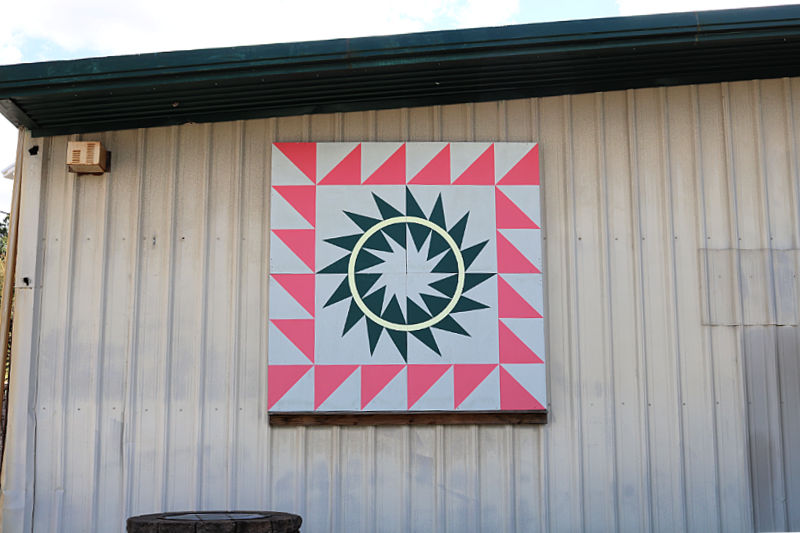 And what better way to enjoy that history and artistry than with a more timeless version of the 'I Spy' game? The Barn Quilt Treasure Hunt!
---
---
Every Barn Quilt Has a Story
One of the things I enjoy most about finding and photographing the Barn Quilts is learning about their stories. Each one has a reason why it was made with a direct relation to a story about the person who made it.
For instance, this one called the 65 'Vette is very indicative of it's location. Mounted on the side of the Burnsville Chevrolet office, it perfectly portrays what the shop is all about.
Or, how about the Floral Centerpiece Barn Quilt Block. This one is mounted on the side of the Burnsville Florist Shop. However, the building also houses the fabulous Quilt 'n Code Quilt shop! This one shows not only a beautiful block, but also tells a little story of the building.
I have to say, one of my favorites along the Burnsville, NC Barn Quilt Treasure Hunt Trail is called the Molar Star. It is mounted on the side of Dr. Poling's Dental Office. No mistaking that one!
---
---
What is a Barn Quilt Treasure Hunt?
This Fall, I was finally able to convince the hubby to join me on a NC mountain adventure. And our first Barn Quilt Treasure Hunt was born.
The first time I was in Burnsville, I stopped in to the One-of-a-Kind Art Gallery and picked up one of their 'Quilt Trails of Western North Carolina' Driving Maps.
It included various Barn Quilt maps in and around Mitchell and Yancey County, including the entire town of Burnsville. Y'all, Burnsville alone has over 50 Barn Quilts! But it was the perfect trail to do in one day.
Combining our Western North Carolina driving map and our Mt. Mitchell Scenic Byway Quilt Trail map, we began our Treasure Hunt backwards. Instead of beginning with block #1, we started with block #50. Leave it to me to 'make things my own'. My husband says I just like to do things the hard way. I prefer to think of it as 'adding to the adventure'.
Either way, we were off! The great thing that makes this a true Barn Quilt Treasure Hunt is that there are no full addresses to each location. Some include the shop or church name and some include a 'on the corner of'. But it's up to you and your phone's Google Search to fill in the rest.
However, once we found the first location, things went pretty smoothly. Because of the sheer number of Barn Quilts, they were pretty close together. In fact, in downtown Burnsville, it's almost easier to walk Main street to see them all.
Unfortunately, not all of the Barn Quilts were still in their locations. But we also found a few more that weren't on the map. So, I figure it was an even swap.
Shortly after Barn Quilt #1 on the Barn Quilt Treasure Hunt there is an entrance to the amazing Blue Ridge Parkway. We decided to take the Parkway back to the Interstate creating the perfect loop. Even Luna enjoyed the views!
---
Everything you didn't know you needed to know about Quilt Travel! Click HERE to learn more!
---
Planning Your Own Barn Quilt Treasure Hunt
To properly execute your own Barn Quilt Treasure Hunt, you'll need a few essentials:
Barn Quilt Trail Map
Google Maps on your cell phone
Marking Pen (to check off the Barn Quilts you found)
Camera (You can also use your phone)
A driving partner (or 2 or 3)
Driving snacks
And your road trip essentials
If you're in the Carolina's and planning a Barn Quilt Treasure Hunt in the mountains, check out the Quilt Trails of Western North Carolina website. Also, a quick Google Search for "Barn Quilt Trails" in your neck of the woods should yield a website or two or more where you can locate your local Barn Quilt Trail Maps.
While on the trip, you can use your Google Maps application's Search function to find either the address of your first Barn Quilt Treasure Hunt stop, or you can try to find another building close by.
For us, our first stop was the Cross and Crown mounted on the Bald Creek Methodist Church. Unfortunately, the church did not show up on our Google Maps GPS search.
However, the Bald Creek Elementary school on the same road did. So, we followed the GPS to the school and guess what? The school had a Barn Quilt too!
Of course, if you're a little old fashioned like me, you can also use your trusty old printed AAA maps. Yes, I still use those too!
The most important thing in any Treasure Hunt, whether it be traditional or a Barn Quilt Treasure Hunt, is to just have fun. Make it a relaxing afternoon with friends and/or family and enjoy the art, the scenery, and most especially, the company.
Where will your next Barn Quilt Treasure Hunt begin?
---
Related Posts:
---
Do you know someone who would love a Barn Quilt Treasure Hunt? Click the buttons below to share the list with your friends! Then be sure to join us in the Traveling Quilters group on Facebook for more travel adventures!
---
more on the blog
---
---