Toasting Ireland One Pub at a Time
Most people that know me personally can attest to how shy I usually am when meeting new people. Quite often I'm the lonely one in the corner doing my due diligence to make sure that darn wall doesn't fall down. It's a selfless job. However, my trip to Ireland brought out a whole new side to my personality no one expected, least of all me.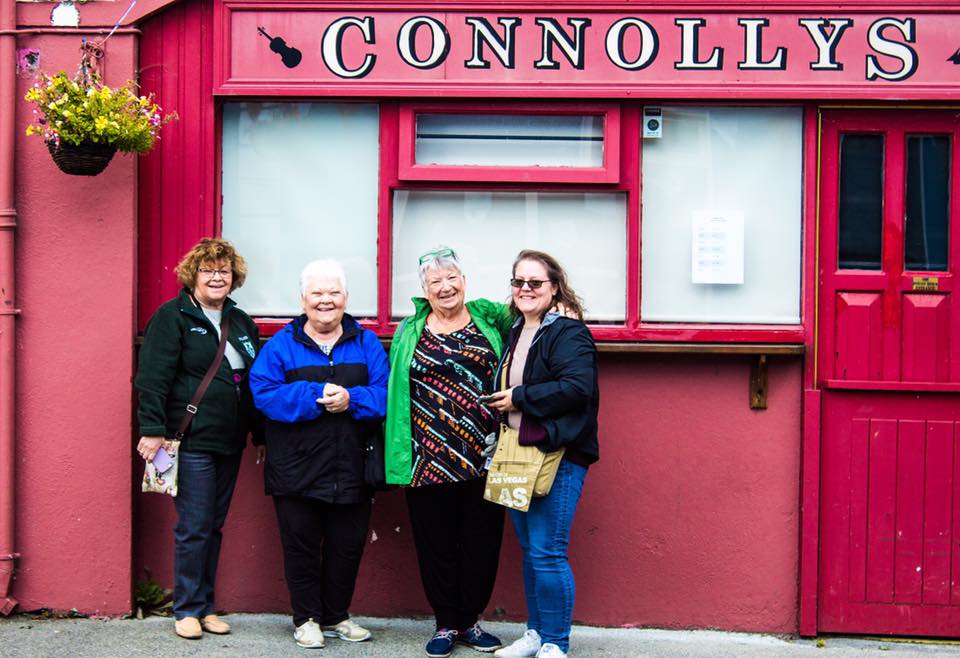 Things started innocently enough. On our first night in Ireland, my roommate, Jeanne and I had stopped in to the Westwood hotel pub for a coffee before dinner. I had already been thinking about picking up a nice bottle of Irish whiskey as a present for my husband, so I asked the bartender. He was a nice enough kid who, as it turns out, was originally from Boston. Small world!
Our new Bostonian friend was not, unfortunately, up to speed on the best Irish whiskeys, so he called out their resident whiskey expert, Owen.
Owen was very knowledgeable about whiskey and helped me pick out a two fabulous ones for my husband. Our conversation only lasted about 10 minutes. But, if I'm honest, I could have listened to him talk all night. Anything to keep staring at his cute young self. Does that make me a dirty old woman? Hey! At least I wasn't the one asking him what time his shift ended (ahem Kathy).
The next thing I know, I'm asking Owen to take a selfie with me. 1) I am horrible at taking selfies. 2) Where did this burst of 'life of the party' animal come from? A stranger had suddenly taken over my body making me do odd and spontaneous things. I kinda liked it!
---
---
The next day had us stopping in to a little village called Kinvara for lunch. After wandering around the town for a bit we settled on a quaint little town pub called Keogh's. There, Kathy, Trish, Jeanne and I enjoyed a fabulous lunch of their local delicacies. Of course, the good looks and sparkling personality of our bartender / waiter did not go unnoticed, by any of us. The flirtation was on.
Enter selfie #2. Where WAS this woman coming from??? I would blame the whiskey but I didn't have an Irish coffee until we left. By chance, if you're ever in Kinvara, I highly recommend stopping in to Keogh's for a pint or something to eat. Chris was amazing and the food was delicious!!
Our next pub stop was An Pucan in Galway. This place was AWESOME! Jeanne, Gloria, Cecelia and I enjoyed fabulous conversation, amazing food and live entertainment. You know that thing about Irish pubs and music/singing? Yup. It's true.
This night our waiter/bartender was Connor. Upon our introduction I knew he'd be added to my collection. There was no way out of it. This time I CAN blame the whiskey because I had two with dinner. #sorrynotsorry.
Connor was an excellent sport. He graciously put up with my antics and even stayed for a chat. It turns out he spent a few years living in New York. Guess what he was doing? Working in an Irish Pub. Oh the sarcastic irony there.
---
---
Unfortunately, we didn't have any more pub stops throughout our trip. However, our last night in Dublin we were treated to a wonderful dinner by the Ashling hotel. Our waiter Matthew was a thru and thru Irishman. And not a bad looking kid either. Dangit. There's that dirty old woman sneaking out again.
All in all, I collected an American turned Irishman, an Irish whiskey expert, An Irishman turned American turned Irishman, and 2 true born and bred Irishman. That is, I'd consider, a full set!
If you thought traveling Ireland by Bartender was fun… you won't believe our Traveling by Toilet game!! Yes… you read that right. 😉
---
RELATED POSTS:
---
Do you know someone who'd love the Ireland Travel Games? Click the buttons below to share with your friends! Then be sure to join us in the Traveling Quilters group on Facebook for more travel adventures!
---
It's St. Patrick's day every day with these fun irish table runner and placemats! CLick here for the pattern!
---
more on the blog
---
---