and what NOT to pack for a quilt tour
Before going on my first Quilt Tour, I had absolutely no idea what to take with me. I had never been on a tour before, let alone a quilt tour. I asked my friends. None of them had been on a tour before. I looked online and couldn't find anything. Ultimately, I took many things I should NOT have taken and made mistakes that you, thankfully, won't have to make!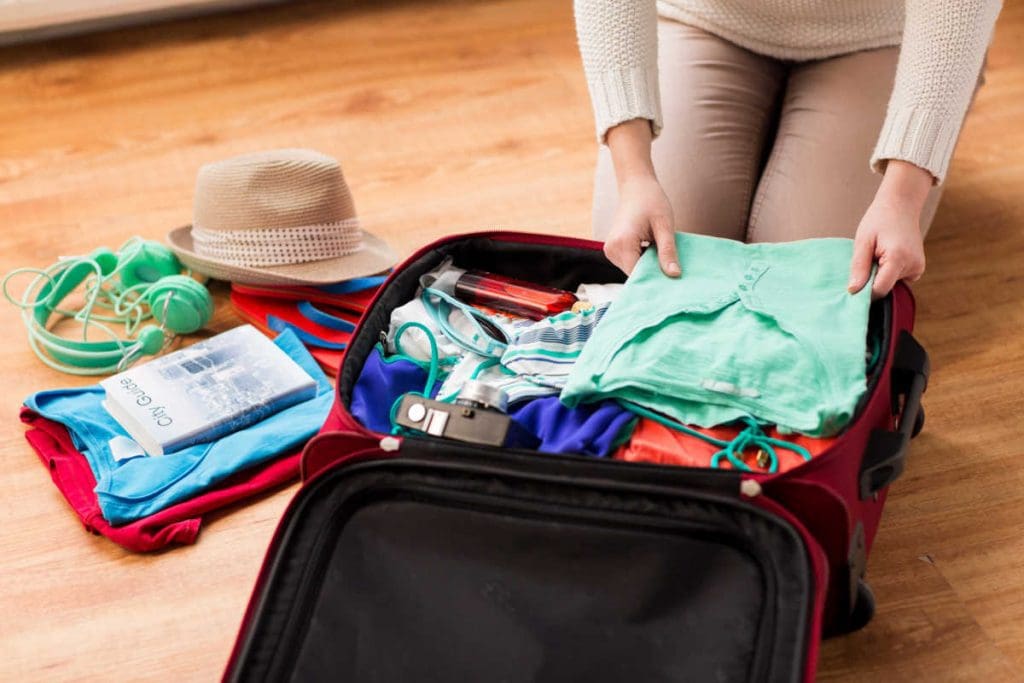 In the article:
Which Suitcase to take
How to pack
What to Pack
Inside your Carry On
What NOT to pack
For International Quilt Tours
---
Which Suitcase to Take on Your Quilt Tour
Since I didn't really know where to start, first I checked the weather. Knowing what to expect weather wise can be very handy in figuring out what type of clothing to pack. Shorts or long pants? Tees or sweaters? Or both? This is especially true if your tour is to a country you've never visited. Heck, Australia's weather patterns are the opposite of ours here in the States!
The second thing I did to prepare for my first Quilt Tour was go shopping. I needed new shoes (which has now become a tradition) and a new suitcase. As it turned out, I had plenty of the right clothing for the summer temperatures in Ireland (long sleeved shirts and pants).
If you're going to buy new shoes for any trip, be sure to allow at least 2 weeks to break them in. You will be doing a TON of walking on your Quilt Tour and the last thing you want are blisters.
When it came to the size or type of suitcase or even the quilting supplies I might need, I was clueless. S, I just bought the biggest suitcase I could find and filled it with whatever I THOUGHT I might need. I'm here to tell you…
DON'T DO THAT. I didn't even need half of the things I packed for the Quilt Tour.
---
---
For most Quilt Tours you will be doing a LOT of moving around. Unlike Quilt Retreats where you mostly stay in one building, on Quilt Tours you'll most likely be staying at a few different hotels and traveling to many different cities. That means a lot of taking those bags in and out of rooms and the travel bus.
So, to save your back and your sanity, I highly suggest going with ONE medium sized suitcase that is on wheels. Here is the suitcase I use.
What You Should Pack for a Quilt Tour
There are 4 main things you'll need to know before you're ready to begin filling up your suitcase for your Quilt Tour.
Where you're going (Time of year and average temperatures)
How long you'll be gone
Are there any unique locations on the tour that require special clothing? (Ice cave in Iceland for example)
Are any Quilting Supplies required for a workshop? (this is usually none but always a good idea to find out)
---
---
Pack for One Week of Travel
The average Quilt Tour is 9 – 12 days of traveling. However, no matter how long your trip lasts, with a few key tips, you can use the following list for any length of Quilt Tour.
3 – 4 shirts
2 – 3 pairs of pants
1 pair of shorts for warmer climates
1 park of good walking shoes
Enough underclothes (unmentionables) and socks for each day of your tour
All your required toiletries (in travel size)
Any medications required for the full length of your quilt tour
Lightweight Rain Jacket that can squish inside your Day Pack
Regular jacket for colder climates
1 – 2 items and/or projects to keep you busy on the airplane.
Travel Laundry Soap (trust me)
Camera and SD Card
Clothes
Depending on the location and time of year you'll be traveling, will determine which clothing you'll need to take. I suggest reaching out to the Quilt Tour company and/or organizer for a suggested packing list based on your tour. They will usually have one on hand. Then, pack for just ONE Week.
Packing for a Quilt Tour with only one week's worth of clothing may seem unrealistic. But, bear with me. I have a secret weapon. THESE little Travel Laundry Soap beauties. I like to travel light, especially when I'm traveling internationally. The less I have to haul around, the easier on my back. Throwing a few of the travel laundry sheets inside your luggage takes up no space at all.
When you arrive at a hotel you'll be spending 2 nights in, wash a few items in your hotel sink the first night, hang them to dry in your room and be ready with clean clothes to use for the next leg of your Quilt Tour. Tried and true method I've used all over the world!
To save space in your luggage, roll your clothes instead of folding them. This technique has been used by military personnel for generations to fit all their gear inside one duffel bag.
---

---
Carry On Bags
When I travel, especially on a Quilt Tour, I take 3 bags. Trust me. These are all you're going to need.
Medium sized suitcase (mentioned earlier)
Backpack carry-on for flying
Daypack for every day use while on the Quilt Tour
On all of my Quilt Tours, this Waterfly Cross Body is the Day Pack I carry with me. It is small enough to throw over my shoulder while walking around and big enough to carry everything I need as well as a few trinkets I may pick up along the way. Plus it comes in so many colors!!
---
If you'll be taking a Quilt Tour outside the United States, keep in mind international flights only allow one carry-on bag per person. You can either put it in the overhead compartment or underneath the seat in front of you. Therefore, this Falanko is the backpack I use and swear by. I took this bag on a 2 MONTH tour from the United States to Iceland to England, Scotland and back home to the United States. It fit underneath every seat on every plane I took. It holds A TON.
Here's what I put inside:
My work laptop (I did not need my laptop on the Iceland Quilt Tour)
Work files for the UK portion of the trip
My entire camera set up for filming (minus the tripod)
All my chargers and headphones
My wallet and daypack items
Water bottle (Empty for TSA)
Travel coffee mug (Empty for TSA)
Snacks
Small rolled up travel throw (I get cold on planes)
And my Travel pillow
I'm telling you… this Falanko Laptop Backpack is the only travel backpack you'll ever need!
---
What You Should NOT Take on a Quilt Tour
On a Quilt Tour you will not have very much down time. Therefore, you will not need many things to keep you occupied. Your days will be filled with things like visiting museums, exploring new lands, chatting with all your Quilt Tour mates. By the time you get back to your hotel room at night… the exhaustion is real and well earned.
Not knowing any of this, I made the mistake of taking too many things with me to Ireland on that first Quilt Tour that really should have been left home. Here's a few of those things you definitely should NOT take on a Quilt Tour:
A laptop. As useful as they are, laptops can be heavy and take up a lot of room, especially when you add in their cords and mouse. However, if you have one, a smaller electronic tablet would be a much better space-saving option.
Full-size toiletries bottles. These are bulky and you will not need that much product for such a short time of travel. Instead, I'd recommend using these re-usable bottles for all your bathroom products. Just be sure to label them! 😀
TOO MANY PROJECTS. On your Quilt Tour, you have very little down time. Therefore, the only projects you should need are things to keep you busy on the airplane or right before bed each night. I would suggest a small hand quilting project, book or perhaps an electronic tablet for playing games or reading.
---
For Quilt Tours Outside of the United States
If you are a US citizen taking a Quilt Tour outside of the United States there are a few things you want to make sure are printed and up to date.
Make sure your Passport is up to date. And by "up to date" I mean your passport will not expire for a minimum of 6 MONTHS after your scheduled trip. There are several countries that will not allow you to enter their country unless there is a minimum of 6 MONTH left on your passport.
ALWAYS GET THE INSURANCE. I can not stress this enough. Along with purchasing the travel insurance, I suggest packing a copy of your insurance information and leaving a copy with a family member or close friend in case your copy gets lost.
Make a Copy of your Itinerary. Whenever I travel, I like to leave a copy of my itinerary with my husband so he knows when and where I'm supposed to be.
For all of the above items (passport, insurance information, itinerary) take a photo of all your documents with your phone and email the photos to yourself. That way, if any of your documents get lost or stolen, you will still have a copy.
I get asked a lot about how to keep all of your important documents safe while traveling, especially internationally. There are a few things you can do. One is to wear a money belt. But, I find them a bit cumbersome and inconvenient to access when I'm out and about.
This is the 'lanyard' I use on Quilt Tours to keep all my important documents safe and in one place while I travel. It's convenient and has side zippers with multiple pockets so I can keep my receipts, cards and documents close at hand. Plus, as it's worn around my neck, I can easily slip it underneath my shirt for safety.
Now that you're sufficiently packed for a Quilt Tour… where are we going?

---
*Disclosure: Please note that some of the links above may be affiliate links. When you click and purchase an item I earn a commission at NO additional cost to you. The income raised goes to keeping the site up and running and community supported.
---
Related Posts:
---
Do you know someone who would love to know what to pack for a Quilt Tour? Click the buttons below to share the list with your friends! Then be sure to join us in the Traveling Quilters group on Facebook for more travel adventures!
---
more on the blog
---
shop the e-store
---