The only Quilt Shop near Richmond, VA open on Sundays!
On all my adventures I always try to stop by the local quilt shops. It gives me a chance to talk with fellow quilters and get inspiration for future products. Plus, each store always has something unique about them. In the case of Quilting Adventures in Henrico, Virginia, it's definitely their batik collection!
---
A Hopping we will Go
A couple weeks ago I was on my way home from my trip to Richmond, VA when I actually found a local quilt shop open on a Sunday. I know, right? I was just as shocked and pleasantly surprised. So, of course I had to make a stop.
The Quilt shop turned out to be Quilting Adventures. They are located in a suburb of Richmond called Henrico, VA. It's right off the highway and super easy to get to. Plus, they're right next to a little strip mall that has an antique store! That's a win/win if I've ever seen one.
Once inside I was almost immediately taken aback by their batik collection. Now, I didn't used to be a batik person. However, the more I've gotten into applique quilting and modern quilting the more and more I find myself reaching for batik fabrics. Plus, they are coming out with some amazing designs lately!
Sorry, fabric sidetrack. Happens a lot. Back to the quilt shop. When you walk inside the front door and look to your left, there it is. A huge alcove of batiks all nicely organized by color in a rainbow of textile goodness. Just look at them! Ten shelves of batiks! Ugh. My heart be still.
---
---
After coming back from dreamland, I decided to peruse the rest of the store and came across the most fabulous frog fabric! Seriously, I can not pass up frog fabric. So, I had to get a yard or 2. Then, I needed matching fabric, right? I mean, you can't buy a top without some matching pants and shoes and tote bag. Once I found a couple fabulous accompaniments for my new froggies I headed to the cut table.
There I found the lovely Maureen who gave a little history of the store. Originally owned by Joyce Hartley, the store was purchased about 5 years ago by Phyllis Mondak and moved to its current location. All of the employees sew and love helping their customers. The store offers classes of all kinds but especially for beginners and various technique focused.
---
---
Where to contact Quilting Adventures
Address: 6943 Lakeside Ave, Henrico, VA 23227
Phone: 804-262-0005
Email: info@quiltingadventures.com
Website: https://www.quiltingadventures.com/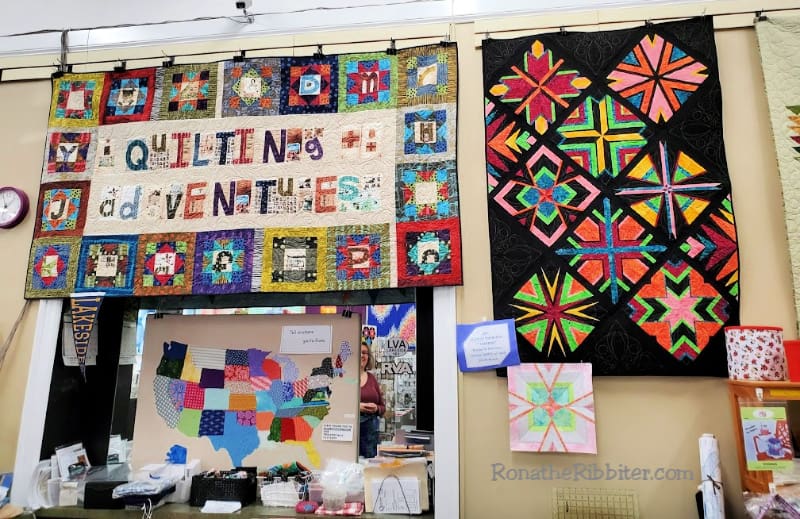 What else to do in Henrico, Virginia?
I always like to ask the shops what other treasures await visiting quilters to their town and these ladies were quick with ideas, including the customers! Here's where they suggested.
Unfortunately, I was just passing through (on a Sunday) and not able to check out any of their suggestions. However, they've been added to my list for next time I'm in town! Because, let's be honest, with this list and all of what Richmond has to offer, I'll need to plan at least a week long stay.
You can check out the museums I did get to visit in Richmond and Norfolk, VA!
Maymont Museum and the White House of the Confederacy
---
RELATED POSTS:
---
Do you know someone who'd love Quilting Adventures Quilt Shop? Click the buttons below to share with your friends! Then be sure to join us in the Traveling Quilters group on Facebook for more travel adventures!
---
more on the blog
---
---