Fun, food, fellowship and Quilting!
From the days of working the fields and hand spinning yarn to electric machines and gadgets a plenty, Quilt Retreats have been around longer than you might imagine. Any excuse to get together and create! But why did we start getting together in the first place?
The informal gathering of crafters is as old as time. Much of those gatherings were born of necessity. For instance, after the invention of the loom, most people could not afford to purchase one for their home, not to mention have the room to store the loom when not in use. So, some communities would come together to purchase a communal loom.
In the fall, after the harvest, the entire townsfolk, young and old, boys and girls, would all come together to sit and get crafting. The large loom would be set up outside due to its size and to allow the weaver to better see the reeds when threading. Houses back then didn't have many windows and were only lit by candle-light.
Because it would usually take 8 spinners to keep up with 1 person working the loom, everyone pitched in. Some would be cleaning the wool and linen, some would work the spinning wheels, and one would work the loom. All to make sure each household had enough yarn and fabric to make clothing, blankets, etc. for the coming winter.
You've heard the term "whistle while you work?" Well, these towns-people would talk, teach, gossip and enjoy each other's company while they toiled away, yard after yard, spool after spool. Talk about knowing everyone's business. I'm pretty sure no one could hide from the gossip mills in those days!
Many things have changed since that time. Today we have electric sewing machines and rows upon rows of fabrics and thread to choose from at our local quilt shops. However, the one thing that hasn't changed is the joy we get from getting together in a room to work on our craft.
Enter the quilting retreat.
In its truest definition, a quilting retreat is merely a group of quilters getting together in a room for any length of time to quilt. These gatherings could be for one day or one week. They could be at a quilter's house or in a fancy hotel conference room. Heck, they can even be on a cruise ship!
More specifically, a quilting retreat is a magical place where you get to leave the world, and everyone in it, behind for just a few days to focus on meeting new people, sharing quilting stories, laughing, eating, and SEWING! Did I mention there's lots of sewing? Oh yea, and there's more sewing. In fact, there's so much sewing that one could realistically finish several projects in just a few days.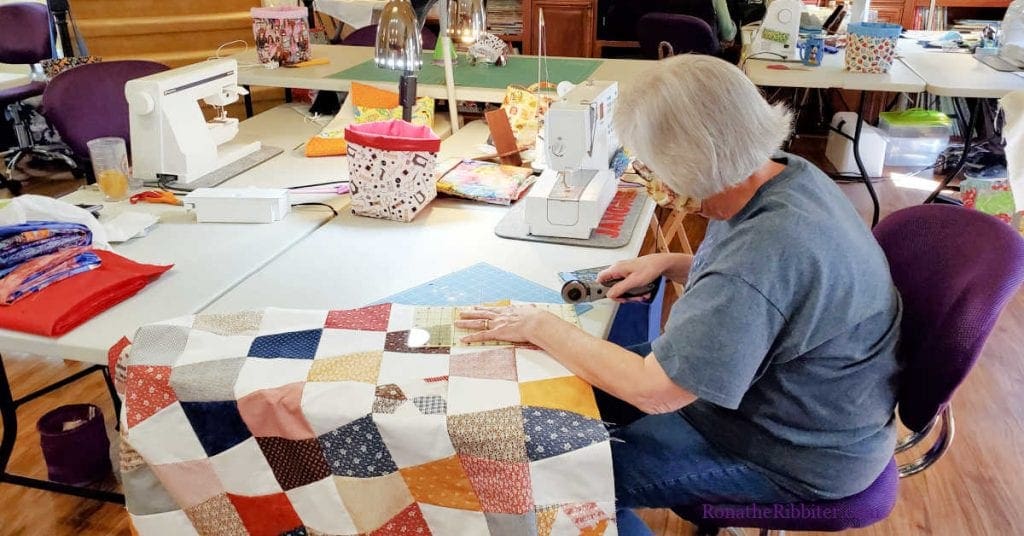 Picture it: You're sitting at a quilting table with nothing but your machine, fabric, and favorite quilting supplies. There's no family to ask when dinner will be ready. No dog that needs walking. No laundry that needs tending. No boss that needs that TPS report like yesterday. There's nothing but you, your machine, and a handful of like-minded individuals all working on fabulous works of fabric art. Just heavenly.
---
---
Where can I find a quilting retreat?
Some of my favorite stories from my grandmother were about her and her sisters getting together when one of them finished a quilt top. All the girls would meet at one of their houses, set up the giant quilting hoop, and they'd all get to work. Hands would fly and mouths would run. Oh yes, this was the time they would all swap new recipes and gossip about who was doing what where and with whom. But oh, those quilts!
If you're interested in attending a quilting retreat, the best place to start looking for one is at your local quilters' guild. Many times, the guilds themselves will organize an annual retreat for their members. Also, a good place to look would be your local quilt shops. If the shops themselves do not organize retreats, they may have flyers or know of websites you can go to find one.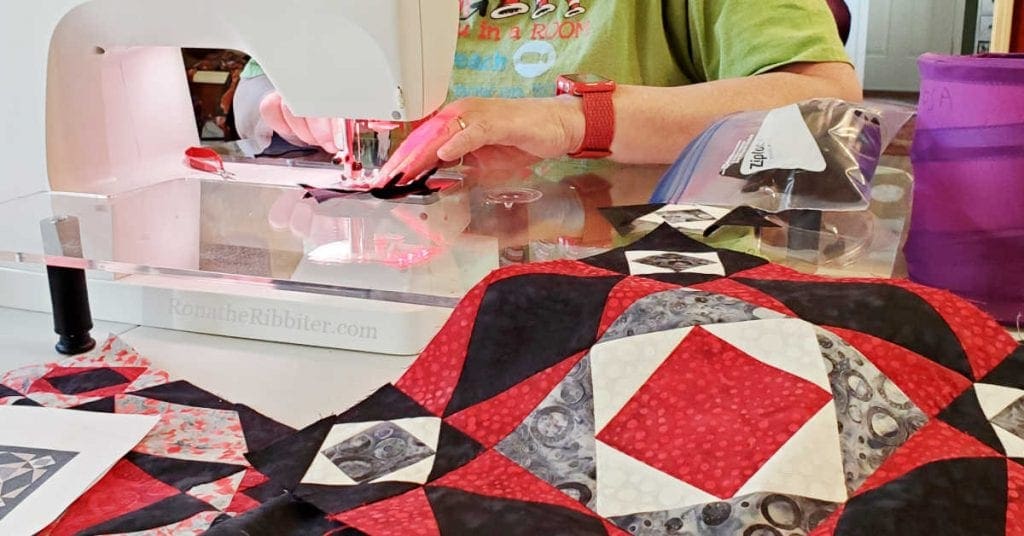 If you are interested in taking a larger quilting retreat, a good place to look is Missouri Star Quilting Company. They hold several quilting retreats in their hometown of Hamilton, Missouri, all year long. In fact, owner Jenny Doan and her daughters lead many of them in person! But be sure to sign up for those well in advance, because they sell out very quickly.
---
---
Finally, you can always do a Google search for "quilting retreats near me". If you go that route, however, make sure to look carefully at who is organizing the retreat and where the quilting retreat is being held. You definitely don't want to sign up for a super fun looking quilting retreat only to find out that it's being held in England. Unless, of course, you're in the market to travel to Europe!
---

---
Whether it's out of necessity or for pure pleasure, Quilt Retreats have a long history of bringing people together to create, enjoy each other's company and make the world just a little bit brighter. Where will you next Quilt Retreat be?
---
RELATED POSTS:
---
Do you know someone who'd love a Quilt Retreat? Click the buttons below to share with your friends! Then be sure to join us in the Traveling Quilters group on Facebook for more travel adventures!
---
more on the blog
---
from the e-store
---