A few weeks ago, I started creating lists of all the quilt shops in each state in the US. While doing my research I kept finding sewing machine stores that were listed, and advertised, as 'quilt shops.' In my opinion, if the vast majority of your store (and services) consist of sewing machines and/or vacuums, you are not a quilt shop. However, some may not agree. So, I put the question to the mass public. "What makes a quilt shop, a "Quilt Shop?"
---
Take it to the People
Heading over to Facebook land I decided to post my question. The answers I received were pretty much what I expected.
It MUST have a majority of it's inventory in fabrics. Quilting tools and patterns along with classes is great to have too. A quilt shop may have some machines and machine accessories, but not take up most of the floor space.

I think there has to be quilting fabric and supplies. A shop that sells only machines is a sewing machine or quilting machine shop.

To me, it's not a a quilt shop if the main product isn't fabric.

In my opinion, a quilt shop is a shop that has a bit of everything that you might want to pick up if you want to make a quilt all in one place.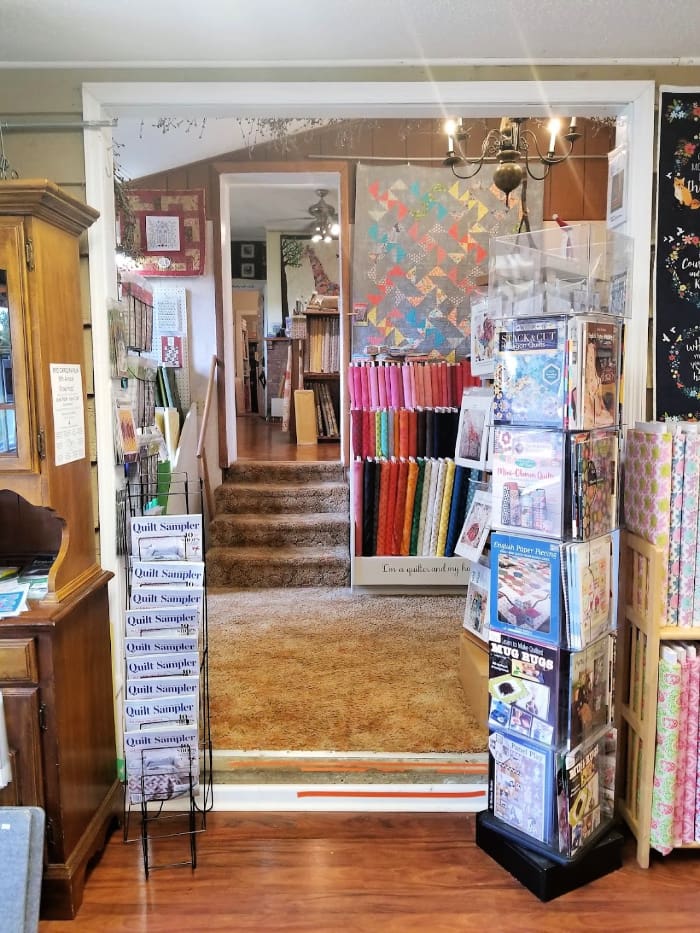 ---
---
Seemingly, the majority of people believe to be considered a true 'quilt shop' the store must offer a variety of fabric and quilting supplies. Whether or not they sell machines was irrelevant. The shops got a bonus if they also offered quilting classes.
While I totally agree with those assessments, if we're basing the definition of a 'quilt shop' solely on their products for sale, then wouldn't places like Walmart and Hobby Lobby be considered 'quilt shops'? They both offer quilting fabric and supplies. Walmart even sells sewing machines. Also, if classes are additionally required, then surely JoAnn Fabric would be considered a 'quilt shop.'
Those questions received a resounding 'NO.' Hobby Lobby and JoAnn Fabric are "craft stores" and Walmart is well… Walmart. So, then what truly makes a quilt shop a "Quilt Shop?"
---
The Truth is Somewhere in the Middle
When I lived in rural central North Carolina. The nearest quilt shop to me was about a 30-minute drive. There were 2 within that distance, actually. Both offer loads of fabric selections, quilting supplies, offer longarming services and various quilting classes. One even sells sewing machines. However, every time I need to get fabric, I always end up making the full 1-hour drive to my 'local quilt shop' twice as far away. Why?
I think the true definition of a what makes a quilt shop a "Quilt Shop" is not necessarily the items it sells or the classes it offers. A true Quilt Shop has a certain atmosphere. The feeling you get when you walk in looking for that next 'must have' gadget or that amazing fabric just calling your name. It's the place you go because you are surrounded by your 'tribe'.
When the person helping you genuinely asks about your next project and even offers some suggestions or advice. That feeling of being surrounded by people who just 'get you'. Where we are praised for our 'collections' and jokingly compare our number of 'UFO's.'
A place where we're free to create and inspire each other. A place we always feel welcome. A place where we 'belong'.
You may find this place in a huge 2000 square foot fabric warehouse in Illinois, or a quilt shop that shares half of a convenience store in North Dakota. They may sell all the quilting supplies you could ever need or maybe just machines, notions and a few classes. Either way, the products offered don't really seem to matter.
What makes a quilt shop a "Quilt Shop" are the people. You, me and the employees. Our tribe.
What do you think makes a quilt shop a "Quilt Shop?" Let me know in the comments!
---
RELATED POSTS:
---
Do you know someone who'd love the Quilt Shop post? Click the buttons below to share with your friends! Then be sure to join us in the Traveling Quilters group on Facebook for more travel adventures!
---
More on the blog
---