A Traveling Quilter's Eerie Tales of Gettysburg
I believe in ghosts. However, my husband is a true skeptic which made our trip to Gettysburg, Pennsylvania that much more entertaining.
---
This last August, my parents came to visit. Since none of us had ever been to Gettysburg before, and it was only a short 7-hour drive from my house, we decided to pack up the car and hit the road. No one expected what we'd find when we got there.
---
The Hotel
Our stay began by checking in to our hotel on the outskirts of downtown Gettysburg. Not thinking anything of it, we got settled in. On our second day, I went in to take a shower and get ready for our dinner plans. In the middle of my shower, with my back to the water stream, the water shut off.
Now, I'm not talking the water shut off as in the hotel lost water. No. I literally heard what sounded like someone slam down on the shower knob to turn the shower stream off. The water was still running, just not the shower stream. Bizarre, but ok.
While waiting downstairs for my parents to join us I talked with one of the locals that worked at the hotel. A wonderful young man named Roy. Without explaining any details of my experience, I asked him if they had problems with their showers in the hotel.
"Oh, you must have met 'little Stevie'"
Roy then went on to explain other stories of run ins with their apparition they call "Little Stevie". Everything from turning lights on and off to actually keeping guests awake all night with laughter and banging noises. Apparently, little Stevie is a prankster.
Was our hotel haunted? Or, was my shower incident a simple accident?
---
The Walking Ghost Tour
To be honest, I wasn't exactly sure what to expect on our Walking Ghost tour. Being the believer that I am, I still need a little bit more 'proof' than mere stories and pretty pictures. However, the tour was pretty much what I expected. A lot of really cool stories and some pretty pictures.
Although, our tour guide did tell us of a fascinating experience with a past client who also happened to live in North Carolina. He ran into the lovely couple again in Gettysburg a few weeks after their tour together. Curious, he asked if they had been here the whole time.
'No. We just returned.' They went on to explain when they got home the first time, strange and unexplained occurrences were happening in the house. But it was the cat that brought them back. Their cat had sat at the edge of their bedroom for 2 weeks straight. He only ate or drank when they brought the bowl to him. That was when they knew something had followed them home. So, they had come back to Gettysburg to return their ghostly housemate.
Did they have a ghost? Or, was it simply their over stimulated imagination?
---
Headed to Gettysburg? Be sure to check out the Needle & Thread Fabrics while you're there! Click HERE to find out what to expect on your visit.
---
The Battlefield
On our second day in Gettysburg we took a wagon tour of the Gettysburg Battlefield National Park. My first thought was "Holy cow this place is HUGE". And, it is. Gettysburg Battlefield is the largest preserved battlefield in the United States. Each year visitors from all over the world visit here to learn about the battle as well as the military tactics learned and implemented in those three days.
From all of the stories I've heard of the battlefield itself, I wasn't sure what I was expecting. However, the main battlefield we toured that day proved to be lackluster. Don't get me wrong. The information was absolutely fascinating and our tour guide was a wealth of information! Sadly though, not a peep of ghostly activity.
Until the last day.
On the morning of our last full day in Gettysburg I decided to trek out to the Confederate line before dawn to get some sunrise photos at the North Carolina memorial. Because parking is sparce (and no lights whatsoever in the trees) I had to walk about ½ mile to the memorial site.
You know that feeling you get when someone is walking up behind you? That kind of tickle sensation in your brain? Well mine was on full blast. I could have sworn I was being watched. However, with no houses nearby and no other tourists in sight, physically I was alone.
When I finally made it to the memorial it was pre-dawn. I had enough light to try and get some practice shots before the sun peaked. Unfortunately, somewhere between my car and the memorial, my camera died. Dead, dead. REALLY? Fine, at least I have some battery on my phone so the morning wouldn't be a total loss. Preserving my phone's battery, I sat and waited the half hour or so until dawn.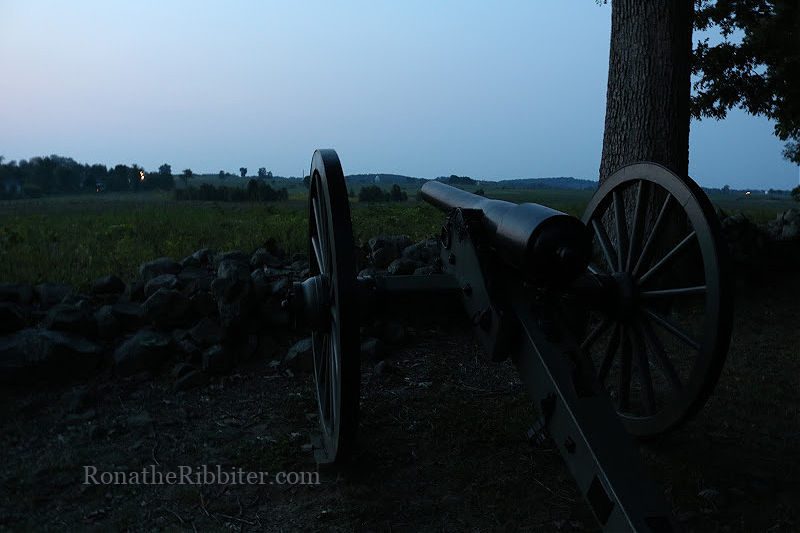 Once the sun began to peak its head over the horizon, I started taking photos. On a whim, I opened my camera to check a setting and, I'll be darned, the battery power was back. It's like the camera had never died.
Was that a ghostly spirit that temporarily sucked the power from my camera? Or, was it just my imagination?
---
The Sach's Covered Bridge Encounter
I like to find places 'off the beaten path'. So, doing a little research into the town of Gettysburg, I came across the Sach's Covered Bridge. Built in 1852, it is the oldest bridge in the area. And is known as the most haunted bridge in America.
Now, the only thing I knew about this bridge going in was it's a great place to photograph. So, after our visit to the cemetery to see where President Lincoln gave his famous Gettysburg Address, we decided to check out the bridge for some sunset pictures. This proved to be the biggest event of our trip.
Upon arrival we found a couple of ghost hunters on the bridge. Now, these weren't your television or tour crews. These were locals with a love of the occult and some pretty fancy ghost hunting gadgets.
Even though I'm a believer, I'm a skeptic of ghost hunters. Most of the ones I've encountered are charlatans. They simply say what you want to hear. But, somehow these two were different. They told us about Henry. The story goes that this was a free black man that was hiding from the Confederate soldiers. If he was caught, he could be sent back to the South and re-enslaved. Sadly, he was killed on that bridge.
The ghost hunters also explained that this young man likes to smoke. In fact, if you place a lit cigarette down on the bridge, you will see someone puffing on it. Odd, but ok. I bring up Henry's story because Roy told us the very same story! He said as kids they used to hang out on the bridge specifically to watch the 'smoking ghost'.
I stayed off to the side of the bridge listening to their stories. I kept thinking how funny they were. The whole situation was humorous to me. I even whispered out loud to myself, 'this is funny'. Then… through this little speaker thing the woman had on the ground next to her, someone said "funny."
WHOAH.
My husband, ever the ghost skeptic, was on the other end of the bridge with the gentleman ghost hunter. He had a similar speaker thing and was asking random questions hoping for an answer. He told hubby to ask anything he wanted. So, hubby asked, "How many people are on this bridge?" A shady voice came over the speaker and said "9".
Y'all, there were 8 of us on that bridge. Add one apparition and… 9.
Finally, I was standing in the middle of the bridge taking pictures of the water through the bridge's wooden slats. Facing the water, I couldn't see anything that was happening on the bridge behind me at that moment. Suddenly, I felt the bridge shake. It rumbled like a car was driving across it. I immediately thought that large group of kids in the parking lot had come running full speed across the bridge.
Nope. No one had come across it. In fact, no one else but my husband felt that bridge move. Not even my father who was standing right next to him!
Is that bridge haunted? YES. The Sach's Covered Bridge is haunted.
---
Following Us Home?
Most of us were pretty glad to finally be back from Gettysburg. Only 2 days later my parents were on their way home and life was back to normal. Or, so we thought.
That very night our dog Luna would not sleep. She was fixated by something in the corner of our bedroom by the bathroom door. So much so that she stayed at full 'attention' all night while practically sitting on top of me. It was almost as if she was protecting me from something… or someone.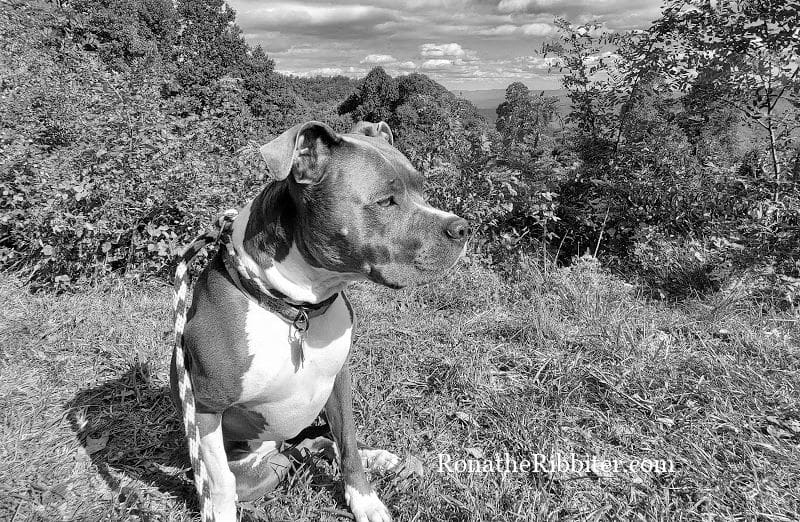 That next morning, I got into the shower. Want to guess what happened? Yup. The shower turned off. This time, however, if was a random blown fuse to our water pump that shut off all the water to our house. Easy fix. But spooky all the same.
Is Gettysburg Truly Haunted?
I will not say with 100% certainty that Gettysburg, PA is truly haunted.
However, I will say with 99% certainty that Gettysburg, PA is truly haunted. Even though many things can be explained away by this or that, how many 'questionable encounters' does it take to make a place truly haunted?
Now, I need to make a Gettysburg Ghost Quilt to remember our adventures by. I think I'll start with a Civil War Quilt from these amazing fabrics I picked up at Needle & Thread Fabric Shop. Have you made a Civil War Quilt?
---
Related Posts:
---
Do you know someone who'd love to learn about Gettysburg? Click the buttons below to share with your friends! Then be sure to join us in the Traveling Quilters group on Facebook to for more travel adventures!
---
---
---