Every Gadget has it's home
My mother used to always say, "Everything has a home." Even inanimate objects like paper and boxes and pretty, pretty fabric that calls us to touch and play. Yes, even the fabric should have a 'home.' Plus, when everything is in its home, it's easier to find.
When I first started quilting, the only space I had to use was our dining room. I quickly took over the room completely so our little family was forced to eat dinners on folding tables in the living room.
As my business began to grow, I needed more space. So, I took over the living room. Hey, at least we got the dining room back! With each 'move' I've picked up a few space saving ideas to give everything a home and keep my sewing room at least somewhat organized. Here are a few of my space saving organizational tips.
Quilt Fabric Storage
A lot of times when I'm fabric shopping, I'll buy fabric for a specific project. For instance, I'll buy all the fabric and notions needed to make a new purse. Or, all the fabric required for my next quilt. Since we're being honest here, I don't always get around to making said projects in a timely manner. We don't need to discuss our number of UFO projects. Moving right along.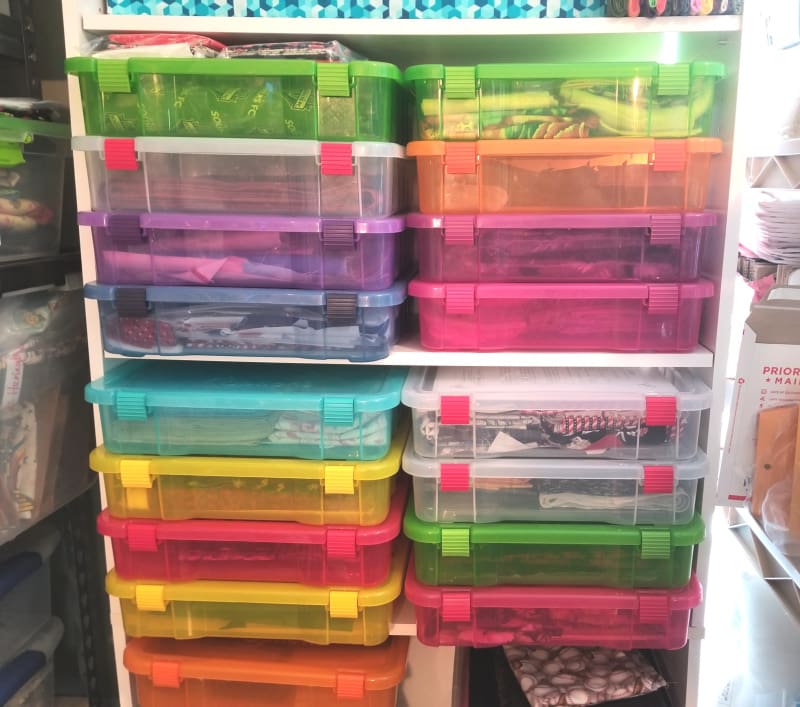 The solution I came up with was to keep each project separate. These 12" x 12" containers are the perfect size to hold finished blocks and all of your project fabric together until you're ready to work on them. When you're ready, just grab the box and get to work. FYI: you can stack at least 30 of these babies in a 9 foot ceiling room. Just sayin'. You can find these containers at most hobby stores and online.
For all the fabric that hasn't been assigned to a project yet, I keep them separated by color and stored in larger tubs. This way, when I go to pull some fabric together for a quilt, I can easily pick and choose by color. You can also break them down by size. This was a bit much for me so I stuck to anything smaller than a ¼ yard got put in with the scraps. Anything larger than one yard gets folded onto cards. Everything in between goes in the tubs. Scraps also get separated by color and placed in smaller containers.
When you have more than one yard of a single fabric (I usually buy 2 yards at a time) they can take up a lot of room in the tubs. Therefore, I fold them around these awesome comic book cards.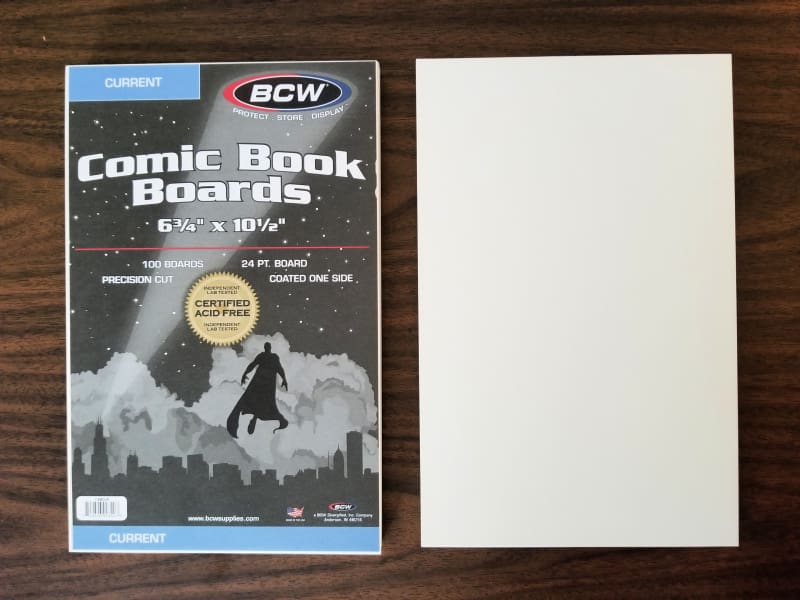 I've found them sturdy enough to hold up to 3 or 4 yards and everything looks so uniform when they're placed on your shelf!
An important thing to keep in mind when discussing fabric storage is that sunlight is not your friend. Prolonged exposure to direct sunlight will cause the fabric colors to fade. When storing fabrics in clear containers, try to keep them out of direct sunlight as much as possible to reduce the chances of fading. If this is not an option, try placing them inside darker colored containers and mark the outsides letting you know what is in them.
---
---
How to Organize Quilting Supplies
Where are my gadget lovers?! There are just so many great products out there that we MUST have but can be a nightmare to find a home for. In this case, the peg board has become my best friend. You can find them at most hardware stores and have them cut to whichever size you need to fit your space. Most hardware stores will cut them for you for free.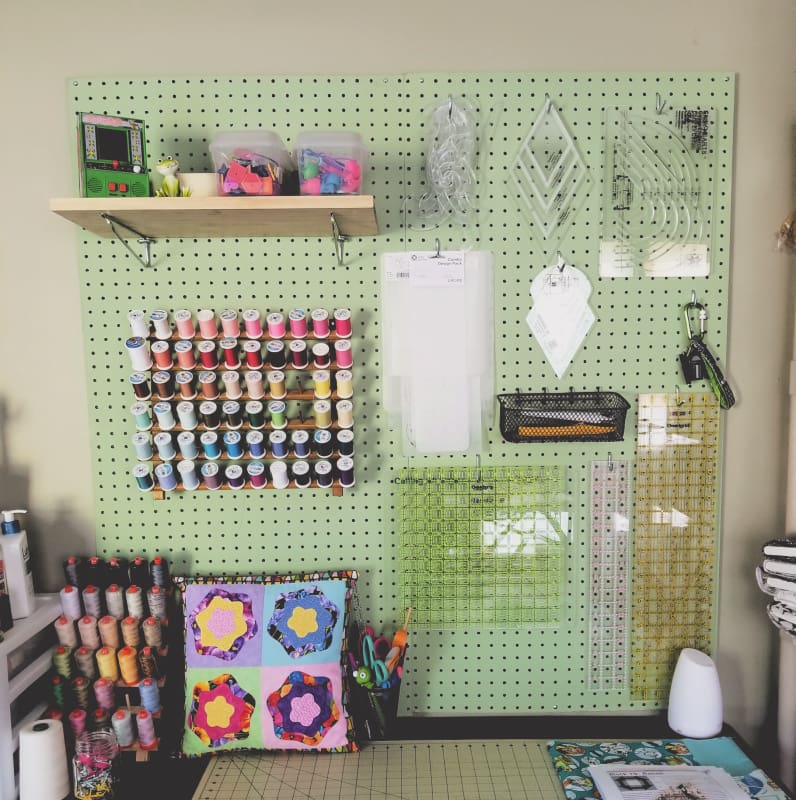 This one I bought for about $20. It is 4 ft x 8 ft. They are very sturdy, hold as much as you can fit, completely customizable and can be painted! There are now so many hooks and hanging do-dads available that it can be hard to choose which to buy. So, I suggest making a list of everything you want to hang before going to the store.
In my case, I knew I wanted a shelf, a basket for my rotary cutters and to hang all my rulers and templates. That made my hook selection process much easier. Once you get everything up it saves a ton of space and keeps everything ready to grab and go when needed.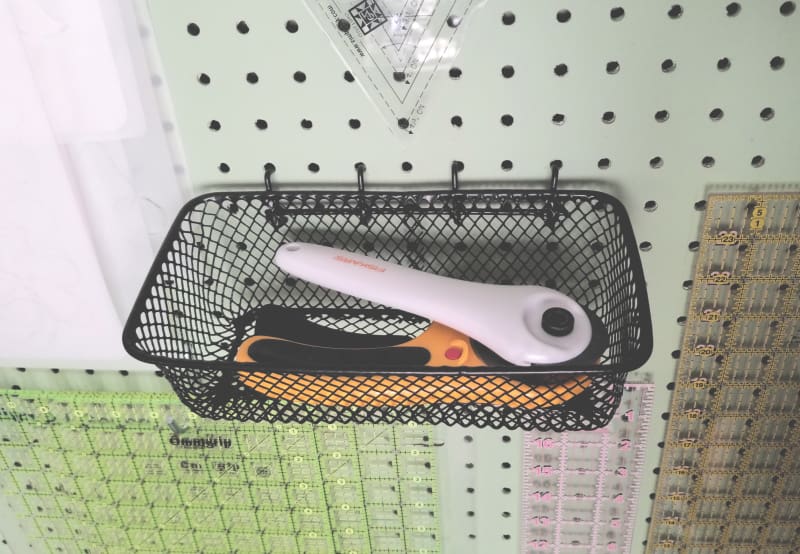 For the smaller notions such as binding clips, glue, tiny templates, pins, tape measure, etc… I found these little drawer sets to be the perfect solution. Each drawer has a designation for what's inside and they're stackable. If you need more storage space, put one more on top.
For items like buttons and bobbin clips (I'm not the only one that hoards these things, right?) I like to keep them in individual tiny Sterilite flip top containers. Don't they look pretty on the shelf? You can find these bins at most major stores or online.
---
How to store Quilt Batting
Let's talk about quilt batting. I have a ton. And, I use a ton. So, the best way I've found to hold it all safely (and away from humidity) is in these large Sterilite 30 gallon sealable bins. You can find them at most major stores or online. If you use multiple types of batting (wool batting and cotton batting, etc.) you can easily store them in different tubs to prevent confusion. Since these guys take up so much more room, I store them under my cutting table. That way, they stay neatly out of the way until needed.
For all of my various interfacings and stabilizers, they also get stored in these larger tubs. Because I live in the south where humidity is a daily struggle, I only buy the larger tubs that will seal properly to prevent the stabilizers from getting destroyed.
How to Safely Store Cutting Mats
I have too many cutting mats for one person. I really do. So, finding a way to store them without them bending and bowing was crucial. I've found the best way for me is to store them standing up in between shelves or a shelf and a wall. The smaller the space, the better as it will force the mat to stand upright.
In this little area I have stored some of my mats, my light table, cutting mat travel bag (yes, there's another cutting mat inside) and my photography box bag. Because the space is small, it forces everything to stand nice and straight to prevent any of them from bending. And, they're neatly out of the way.
With a little ingenuity and better use of wall space and underneath space, we can easily find homes for all our wonderful quilting gadgets and fabric. Just don't forget to put them away when you're done playing.
---
*Disclosure: Please note that some of the links above may be affiliate links. When you click and purchase an item I earn a commission at NO additional cost to you. All the money raised helps to keep this blog up and running.
---
RELATED POSTS:
---
Do you know someone who'd love these storage tips? Click the buttons below to share with your friends! Then be sure to join us in the Traveling Quilters group on Facebook for more travel adventures!
---
more on the blog
---
---