What if one chance encounter changed the course of your life?
There I was, flipping through my copy of Kaffe Fasset's 'Quilts in Ireland' book (again), perusing all the brilliantly colorful photos and locations, petting the pages as if I were petting the quilts themselves. Without warning, I began to cry. What in the world?! And in that split moment I realized, I'm exactly where I'm supposed to be. And it all started with Ireland.
---
How Color can change your perspective
Truthfully, I used to never be one to use bold bright colors in my quilts. Let alone large 'in your face' prints. I tended to stick to the basics like grey tones and fall colors with a little splash here or there. Or, when I did branch out to winter colors they tended to be small prints. I looked at large prints and thought 'what am I supposed to do with that?'
Then, Kaffe Fassett walked into my life. I discovered his prints by accident while shopping for fabric online. At first, I was put off by several pieces because they were "too bold" for me. However, I was still intrigued by what others might do with them. So, I went in search of his quilts. What treasures I found!
---
---
When you do an online search for Kaffe quilts, the first site that pops up is, of course, KaffeFassett.com. His website. The first picture you see after opening his site is a beautiful picture of a very happy and content Kaffe Fassett surrounded by beautiful bright colors in the flowers and the quilts. It was almost like he was encouraging me to step out of my world and welcoming me to his.
At the time he had just released his book "Quilts in America." If you haven't read it yet, I highly recommend it. The book is a beautiful showcase of quilts inspired by the American Museum in Britain. The museum houses a collection of antique American quilts collected in the early 1960's. The book is filled with Kaffe's interpretations and recreations of these pieces of art using his own fabric lines. The results are simply stunning.
But I was STILL using mostly his pastels and 'safe' fabric colors.
That was until, in October of 2019, I was lucky enough to take a workshop with Kaffe Fassett and his partner Brandon Mably. Excited, elated, enthralled would all be understatements attempting to describe my feelings about this event. In his workshop, Kaffe showed me an entirely new way to look at color.
He encouraged me to take a giant leap outside my comfort zone. To not be afraid of color. To EXPERIMENT! After all, what's the worst that can happen?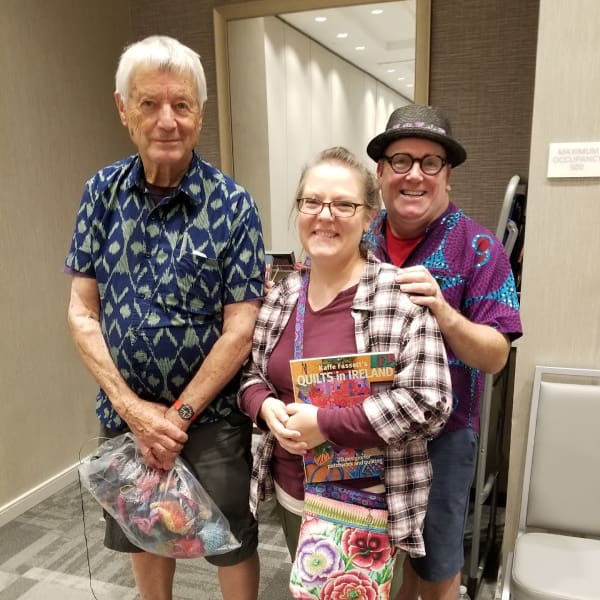 ---
Dream BIG
In all the madness of quilt making, I decided to start this blog. Originally, it's intent was to share all things quilting. My patterns, tips, tricks, you know. Just like the thousands of other fabulous quilting blogs out there. That was until I met Ruth Soukup and took her blogging course.
When Ruth Soukup released her 6th book called "Do It Scared", and with the self encouragement I learned from Kaffe's workshop, I jumped in head first. In this book, and in her podcast of the same name, Ruth encourages everyone to 'dream BIG.' Imagine, if there was nothing standing in your way and money was not a concern, what would you be doing?
My answer: I'd be Kaffe Fassett.
What does all this have to do with ireland?
In early 2017 a friend invited me to her next quilters guild meeting. On a whim I decided to tag along. As it turned out, that was the ONLY guild meeting I joined throughout the entire year.
However, our speaker that night was master quilter Mark Sherman. He had a flyer for an upcoming tour he was leading to Ireland. Again, on a whim, I picked up the flyer and took it home. What's the worst that can happen?
---
---
As luck would have it, later that summer I was blessed to join Mark and a few fellow quilters on that same tour to Ireland! It was literally life changing.
Travelling from Dublin to Galway, through Connemara and down along the Wild Atlantic Way then back through Killarney to Dublin, it was the adventure of a lifetime. Every new destination held a new inspirational treasure.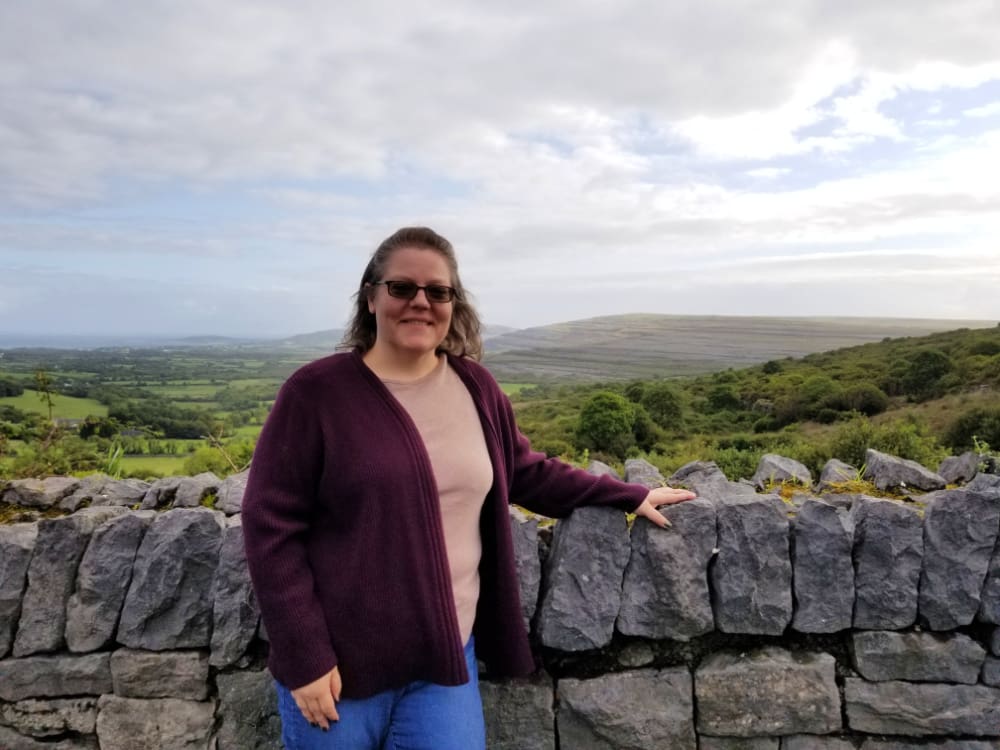 The awe inspiring cliffs and wind driven rolling grass fields out at the Cliffs of Moher to the enchanted Connemara Marble columns and angel gargoyles of the neo-Gothic Church at Kylemore Abbey.
The color rich towns of painted doors and flowers a plenty to the deep greens and rich wildlife of the Killarney National Park.
But on our last night in Ireland I found myself calling home in tears. Leaving Ireland was one of the hardest things I've done. It was almost as if I felt like my 'work' there was unfinished. There was something more I needed to do or see or experience that I was leaving behind.
---
My big dream
It was shortly after my Ireland trip that Kaffe Fassett entered my life and it all made sense. The hidden fairies of the Emerald Isle were showing me my destiny, my purpose. My BIG dream. The red carpet of my future had been laid out before me and now I just had to start walking… Or driving… Or flying…
---
It's funny. When I originally wrote this post following that workshop in 2019, I never could have imagined how life (and the world) would change. This was my dream that I wrote that day:
Within 5 years I will be creating my own fabric lines and designing my quilt patterns using those fabrics. All of them inspired by my travels around the world. Every new experience fueling my next work of art. Every destination an opportunity, I want to inspire quilters around the world to reach outside of their comfort zones and create their own works of art and their own vision. I want to paint the world, one quilt at a time.
Aside from the designing fabric piece, I'd say I've done pretty well. Since 2019, the BIG Dream has only grown bigger. And now, I'm building an empire! There are no limits where I'm going and I want to take you with me!
Are you ready to paint the world, one quilt, and travel adventure at a time?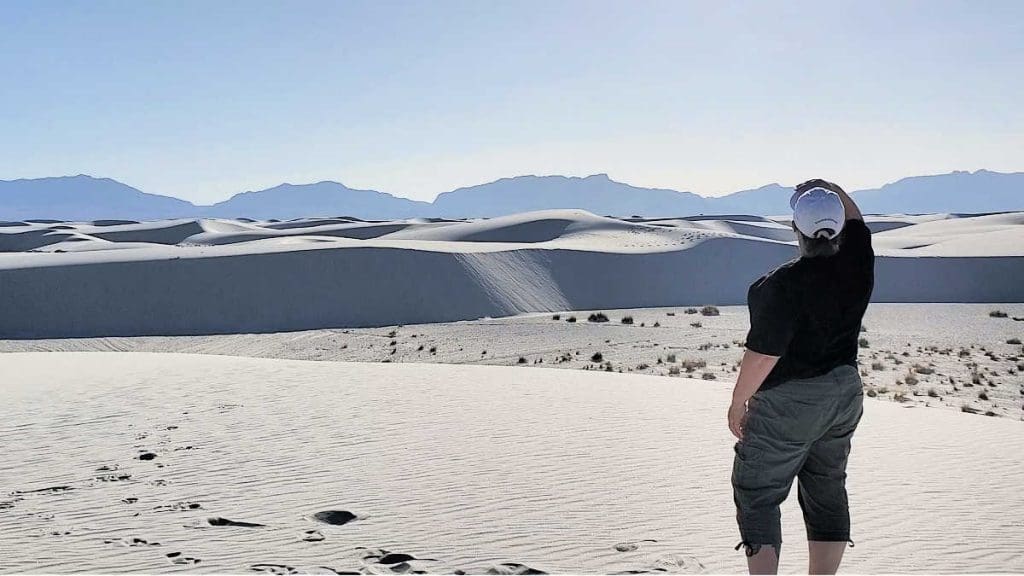 ---
RELATED POSTS:
---
Do you enjoy my Quilt workshop tale? Click the buttons below to share with your friends! Then be sure to join us in the Traveling Quilters group on Facebook for more travel adventures!
---
More on the blog
---
---
Won't you join me on my journey? Click below to sign up for my weekly newsletter to keep up with all the happenings here at the pond. Each week I send out updates on events, tips and more!
---